Wie in den vergangenen Jahren stellte auch dieses Mal Giorgio Armani wieder sein Armani Teatro zur Verfügung, um einem jungen Nachwuchsdesignern Plattform für seine aktuelle Kollektion zu bieten. In dieser Saison war der koreanische Designer Munsoo Kwon an der Reihe. Geboren und aufgewachsen in Süd-Korea hat Munsoo Kwon in San Francisco Mode studiert und 2011 sein eigenes Label gegründet.
Das Motto seiner Frühjahr/Sommer 2018 Kollektion lautet "YOLO! (You Only Live Once)", was ja schon einiges verspricht.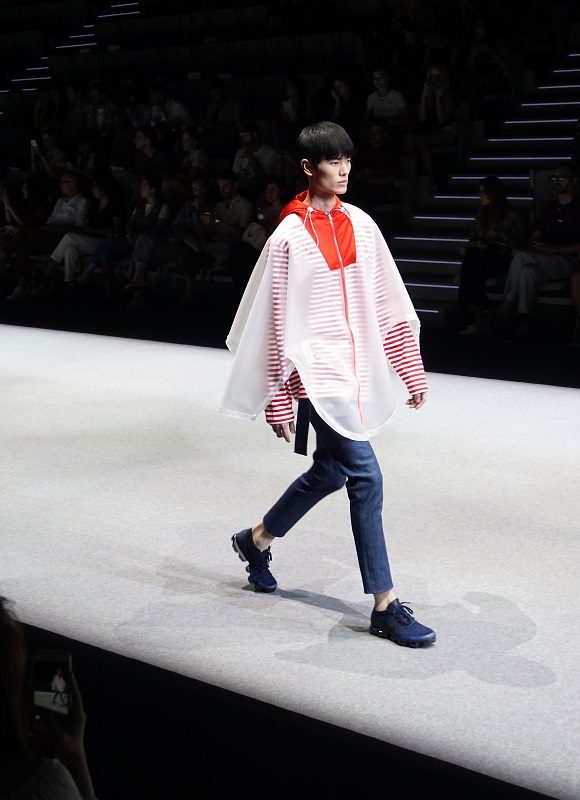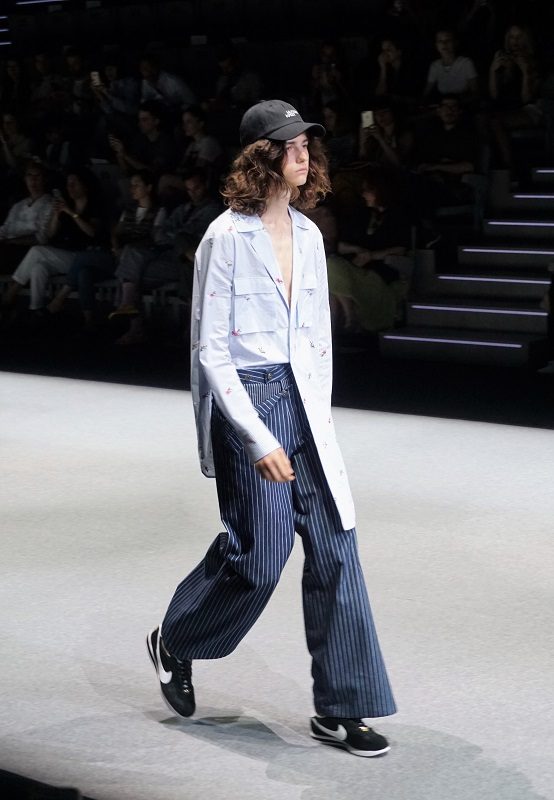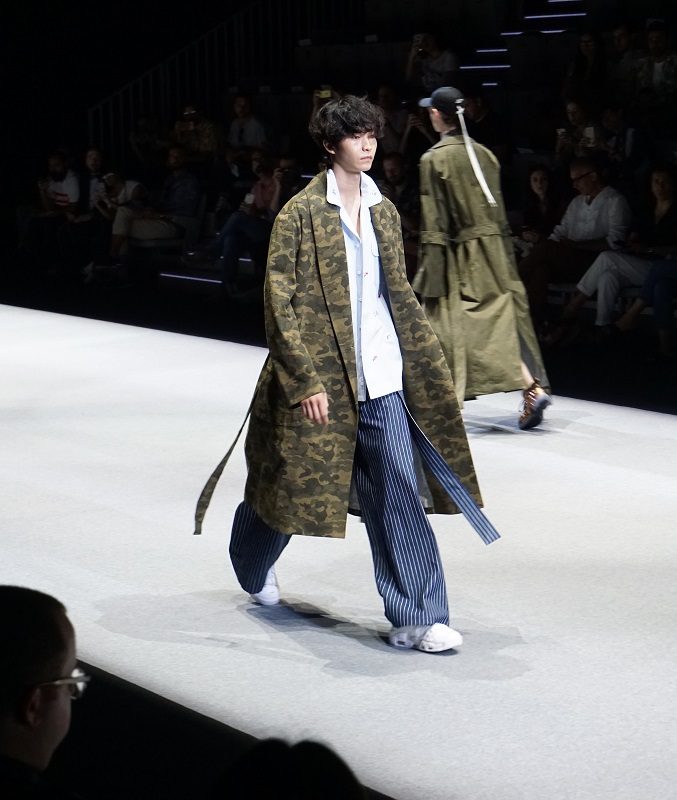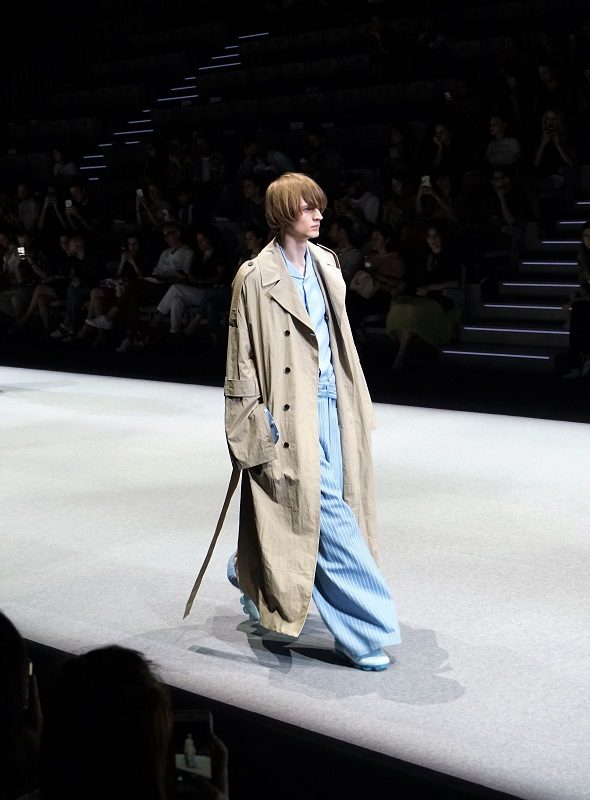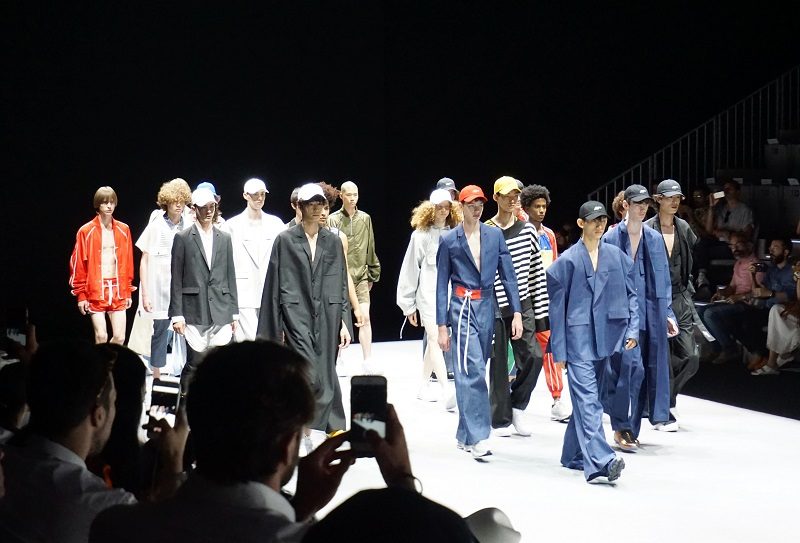 In der Kollektion geht es um die Individualität und wie sie sich über die Zeit verändert. Ein Schwerpunkt der Kollektion sind viele unterschiedliche Farben und Muster, ganz individuell eben. Von Navy, Blau, Grau, Olivgrün, Gelb Rot bis Schwarz und Weiß ist (fast) alles dabei, genauso wie Streifen, Blumenmuster oder Camouflage. Manche Looks sind inspiriert von den 80er Jahre Yuppies, andere von den aktiven "Yolos", wie die Surfershorts oder Capes aus PVC-Material bzw.Trainingshosen und Anoraks. Alles sehr weit und überdimensional geschnitten, die fast schon typische Silhouette von Munsoo Kwons Designs. Man(n) soll sich wohl fühlen und –entsprechend YOLO – das Leben (und die Mode) genießen.
Eine coole, farbenfrohe und starke Kollektion!
English:
Every season Giorgio Armani gives one young designer a chance to present the new collection in the Armani theatre during the Milano Moda Uomo. This time the Korean designer Munsoo Kwon presented his collection for the upcoming spring/summer 2018. Born in South Korea, Munsoo Kwon studied fashion in San Francisco and founded his own label in 2011. The motto of his collection is 'YOLO! (You Only Live Once)', which was promising.
Munsoo Kwon`s Spring Summer collection talks about today's social phenomena of individualism, from the Yuppies (young urban professional in the early 80s) to the Yolos (people with the view that one should make the most of the present moment without worrying about the future). Munsoo Kwon explores the fascinating history of the individualism that has changed and reflected the values of the times. Many different colors and pattern are used in the collection to demonstrate the individuality of the people, such as navy, pale blue, khaki, gray and many more together with flower prints, camouflage or pin stripes e.g.
The oversized silhouettes which have become Munsoo Know`s new signature styles make the collection more dramatic. Men should feel good and enjoy life (and fashion) – YOLO. A cool, colorful and strong collection!