(For a short English version please scroll down)
Die Milano Moda Uomo ist zu Ende, die Füße sind wie gewohnt platt, zahlreiche Espressi quasi intravenös verdunstet und nun folgen Details zu den Schauen, Präsentationen und was sonst noch so passierte. Vorab kann ich sagen: Es war wieder super!
Gleich am ersten Tag war wie gewohnt CoSTUME NATIONAL mit von der Partie. Das Motto der Kollektion von Designer Ennio Capasa ist "Fusion" (zufälligerweise das gleiche, das für die Emporio Armani Frühjahr/Sommer-Kollektion gewählt wurde – die Show könnt Ihr Euch übrigens hier nochmal angucken).
Und das Motto passte gut, denn von Bikern über Rock and Roll, Vintage bis hin zu indianischen Elementen war quasi alles dabei, was Ennio Capasa inspiriert und der typische CoSTUME NATIONAL Fan bzw. Käufer auch erwartet. Viel Überraschendes gab es auf dem Laufsteg nicht zu sehen – der Designer bleibt seiner Linie einfach treu. Schaut am besten erst einmal selbst durch die Bilder bzw. das Video: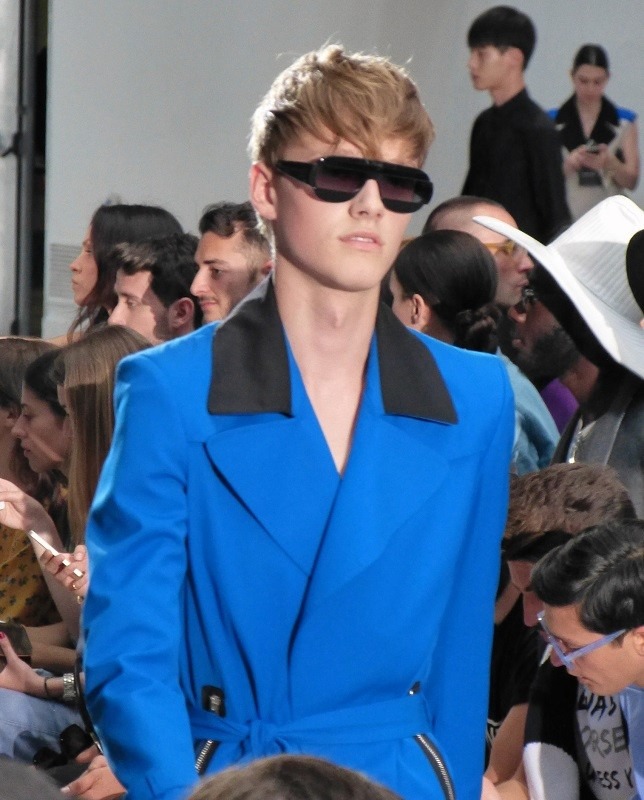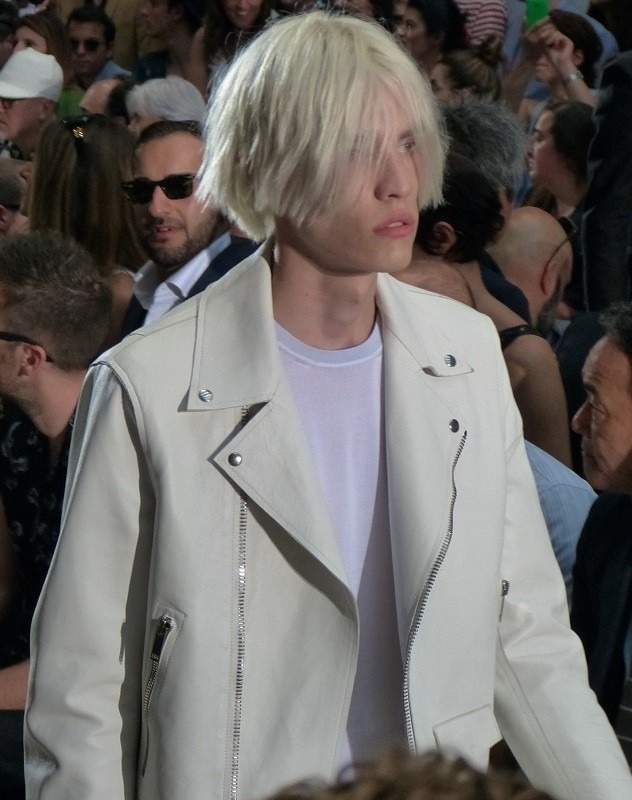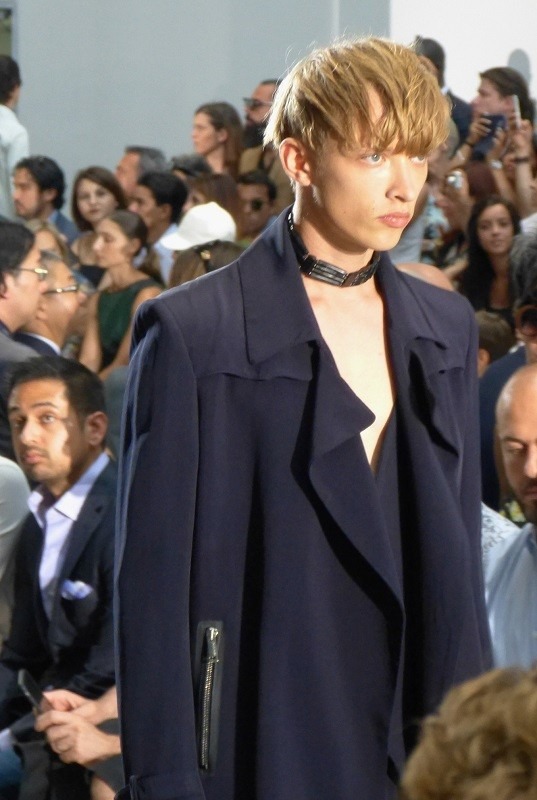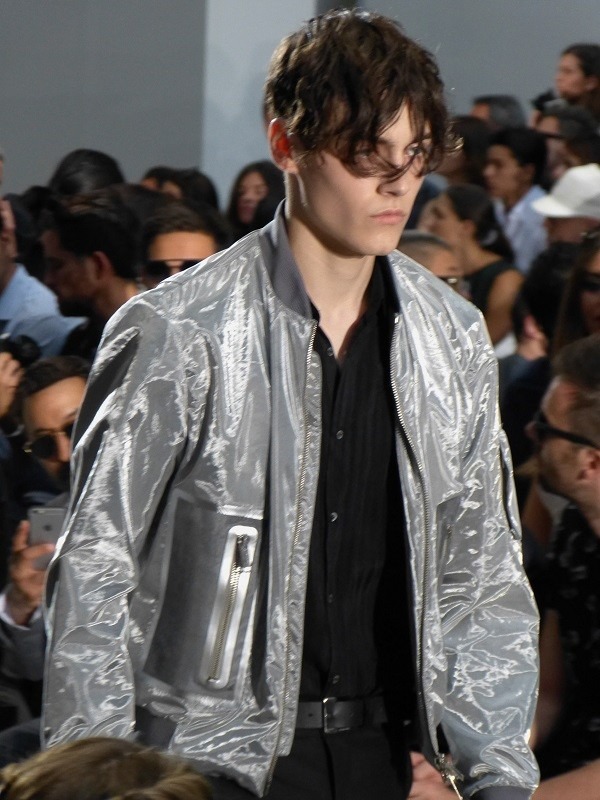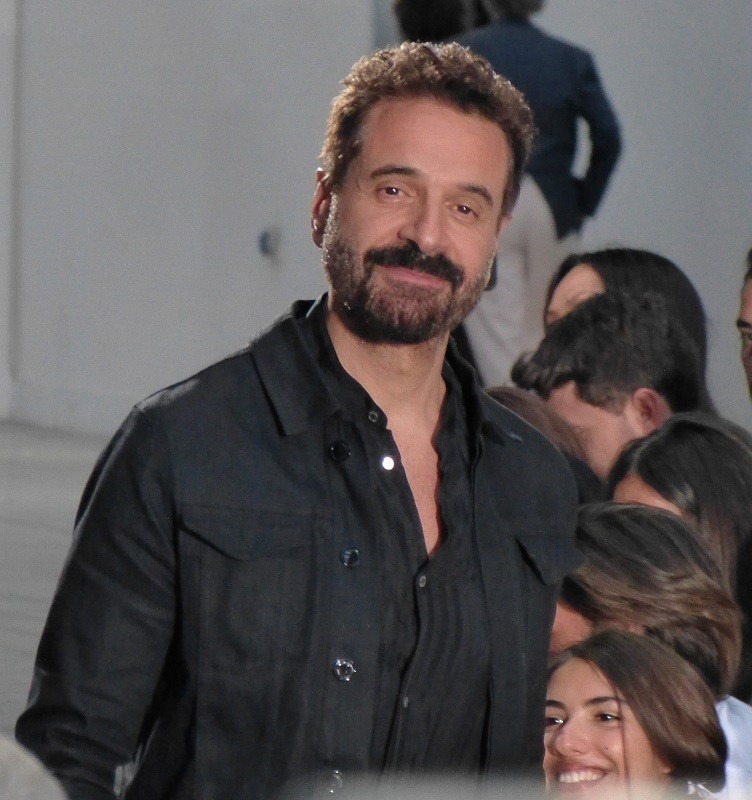 Leder, Denim mit geometrischen Prints und Wildleder waren die bevorzugten Materialien, Hosen bleiben skinny mit Fransen an der Seite oder aufgesetzten Reißverschlüssen. Farbentechnisch gab es vor allem Schwarz und flammendes Rot auf dem Laufsteg zu sehen, aber auch Blau und Weiß. Ein Highlight war das silberne Outfit zum Abschluss.
Es gibt noch weitere Neuigkeiten – sagt Euch der italienische Sänger Jovanotti etwas? Jovanotti geht demnächst auf Tour und wählte CoSTUME NATIONAL für seine Bühnenoutfits, in eben dieser besagten Fusion verschiedener Stile. Rockig und cool, typisch für CoSTUME NATIONAL.
English:
After the 'Milano Moda Uomo', lots of Espressi and burning feet, I will tell you more about the shows and presentations. On day one of the Men's Fashion Week the show of CoSTUME NATIONAL is always a fix component. Ennio Capasa created a collection called 'Fusion', in which he melted parts of different styles like Bikers, Native Americans or Rock and Roll. Dark leather, printed denim, skinny trousers with side fringes or zippers are part of the collection, with not too many surprises, but everything the CoSTUME NATIONAL fan is expecting. Do you know the Italian singer Jovanotti? He chooses CoSTUME NATIONAL for his new tour with outfits inspired by superheroes, motocross and Native Americans as well. Ennio Capasa remains true to his style, cool and Rock 'n Roll.
(For a short English version please scroll down)
Ciao aus Milano! Gestern bei 30 Grad und Sonnenschein quasi im Hochsommer gelandet ging es auch gleich zu einem Cocktailempfang von Dirk Bikkembergs und Fabrizio Sclavi inklusive Übertragung des WM-Spiels (leider nicht so erfreulich für unsere italienischen Gastgeber…). Offiziell startet die Fashion Week aber erst heute und eine der ersten Schauen war die von CoSTUME NATIONAL HOMME.
Ennio Capasa ließ sich für seine Frühling/Sommer 2015 Kollektion von den Rockstars der 70er – David Bowie, Mick Jagger und Jimi Hendrix – inspirieren. "Kreative Freiheit" ist sein Motto und dazu zeigte er Streifen, klares Blau und 70er Jahre Schnitte.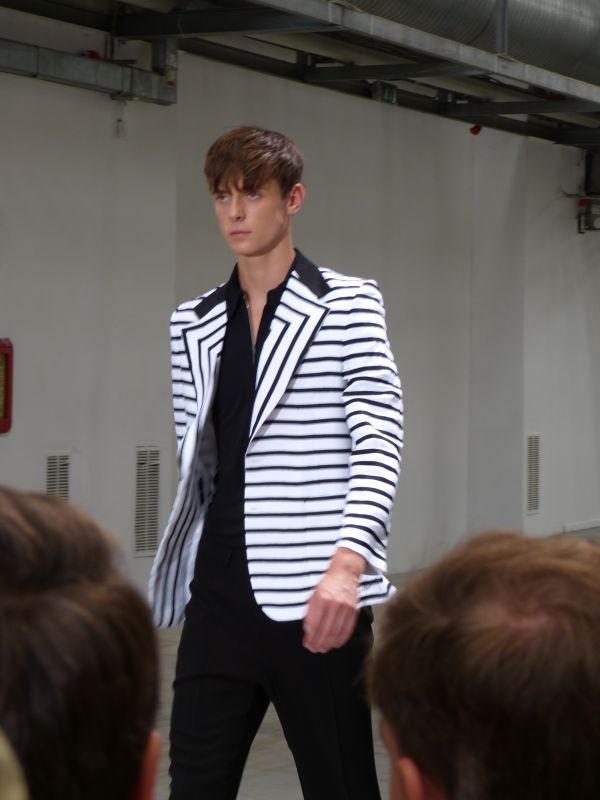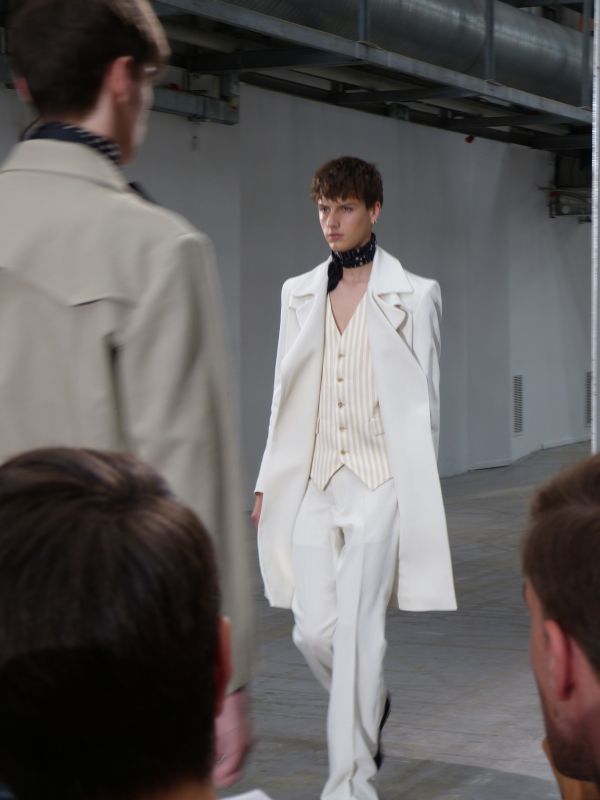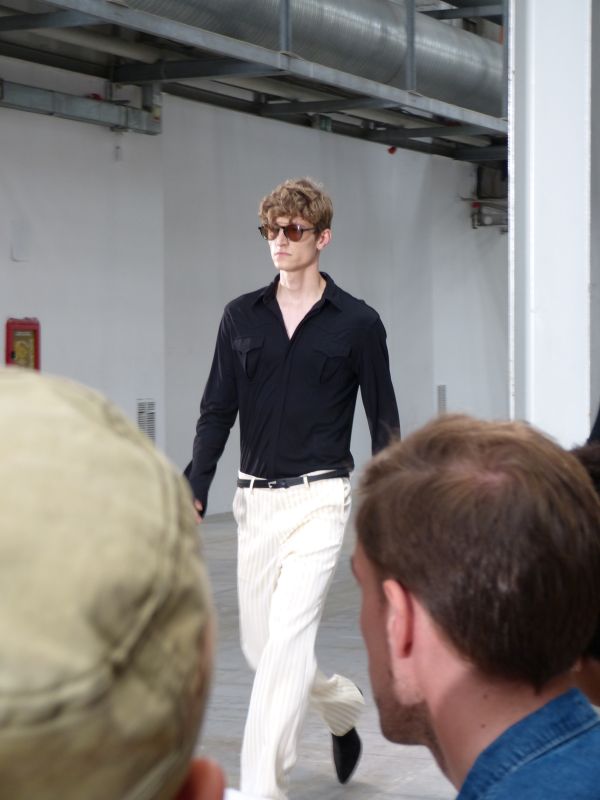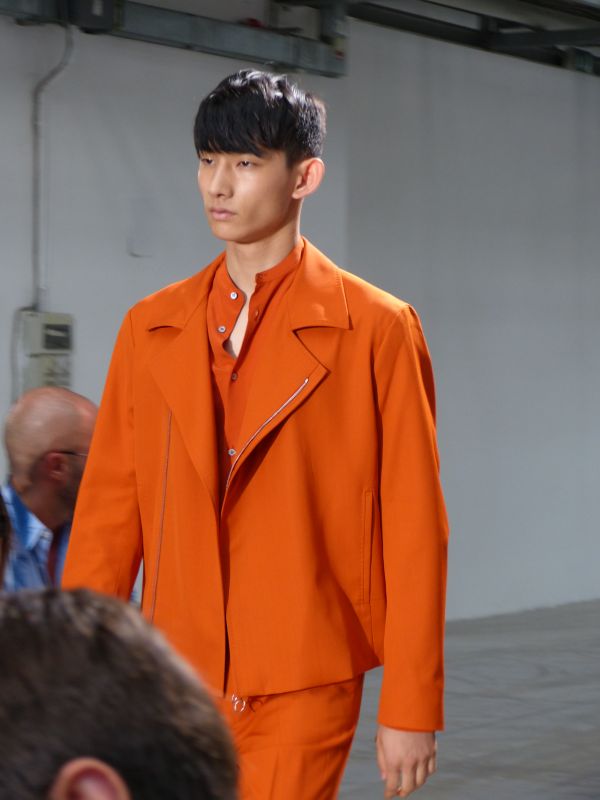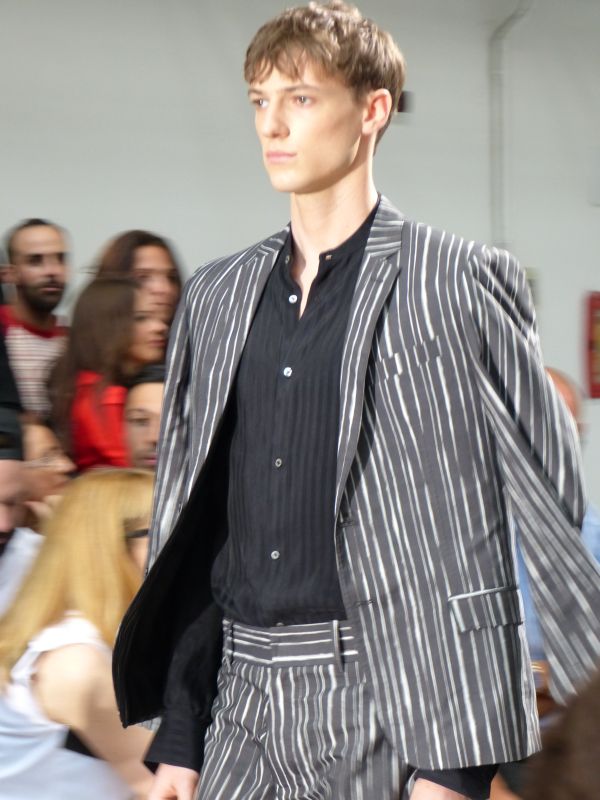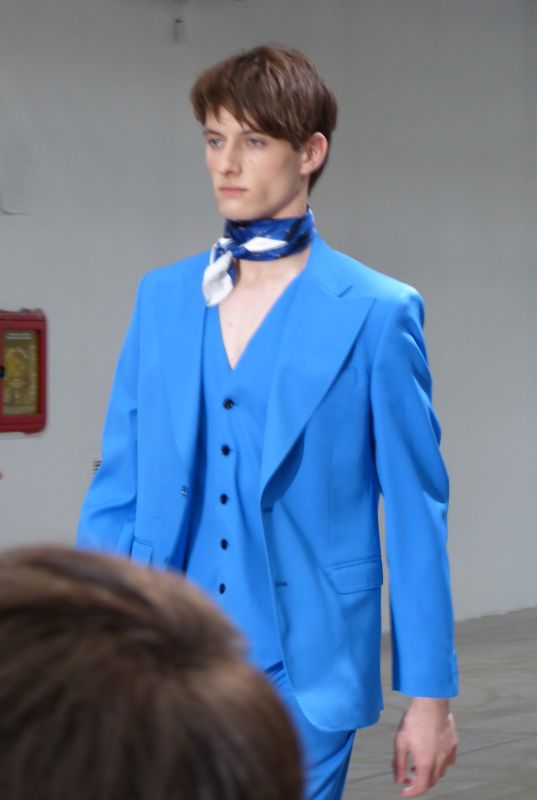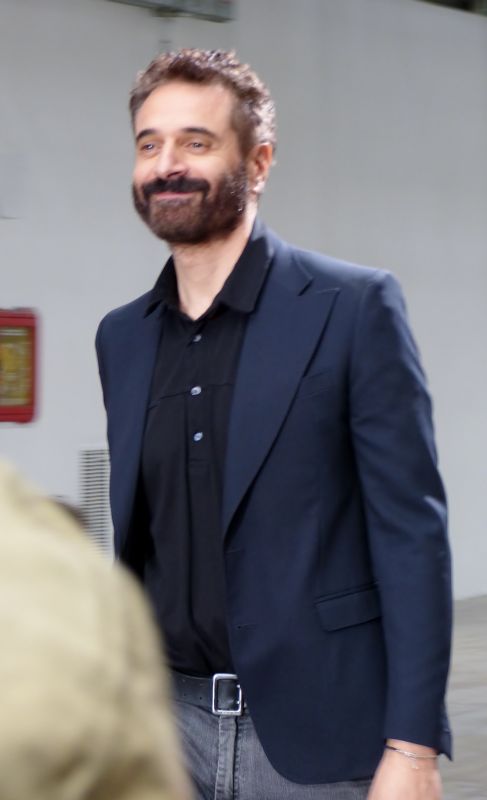 Zu seiner Kollektion noch ein schönes Zitat von Ennio: "It`s time to look at the future with fresh eyes, abandon cliché, surprise with a free spirit."
Tragbar und cool – besonders das klare Blau = I like!
English:
Ciao from Milan! Arriving in Italian summer yesterday I just went to a Cocktail party by Dirk Bikkembergs and Fabrizio Sclavi (where we could watch the Italian soccer game, unfortunately not that good for our Italian hosts…).
The official start of the Milano Moda Uomo was today. One of the first shows was CoSTUME NATIONAL HOMME.Ennio Capasa pays homage to the Rock Stars of the 70ies, like David Bowie, Mick Jagger or Jimi Hendrix. He was led by creative freedom and showed stripes, light blues and 70ies styles. Ennio said about his collection: "It`s time to look at the future with fresh eyes, abandon cliché, surprise with a free spirit." Very cool, wearable and with 70ies chic – I like, especially the blue tones. 
(For a short English version please scroll down)
Aktuell bin ich noch auf der Fashion Week in Berlin, aber ich bin Euch ja auch noch einige Berichte aus Milano schuldig. Glaube es waren zu viele Schauen und Termine, denn ich komme einfach nicht hinterher darüber zu berichten. ;) Ein paar Impressionen könnt Ihr bereits auf meinem Youtube-Kanal entdecken, der Rest folgt noch, versprochen!
Nach der Show von Ermenegildo Zegna Couture by Stefano Pilati stand ebenfalls am ersten Tag der "Milano Moda Uomo" mittags um 12:30 Uhr die Show von CoSTUME NATIONAL Homme auf dem Programm.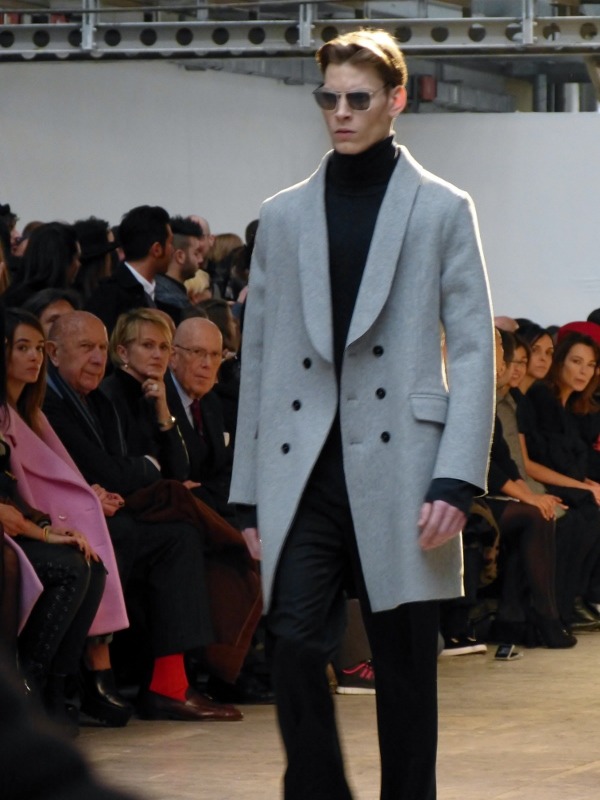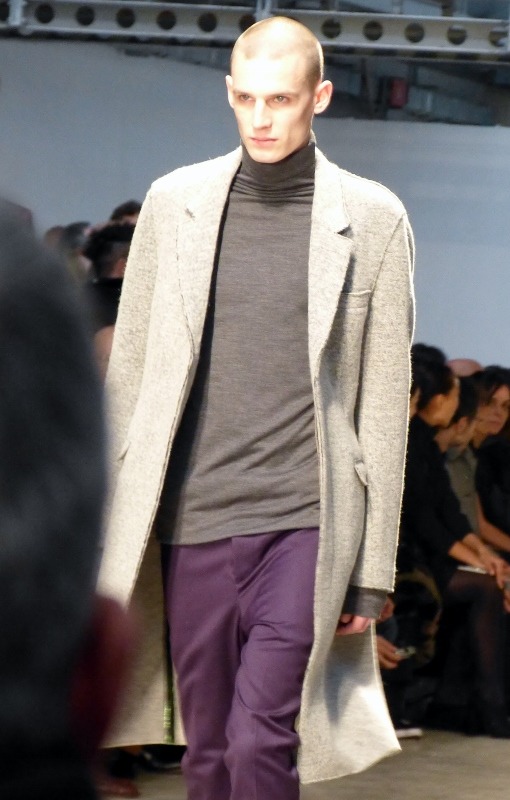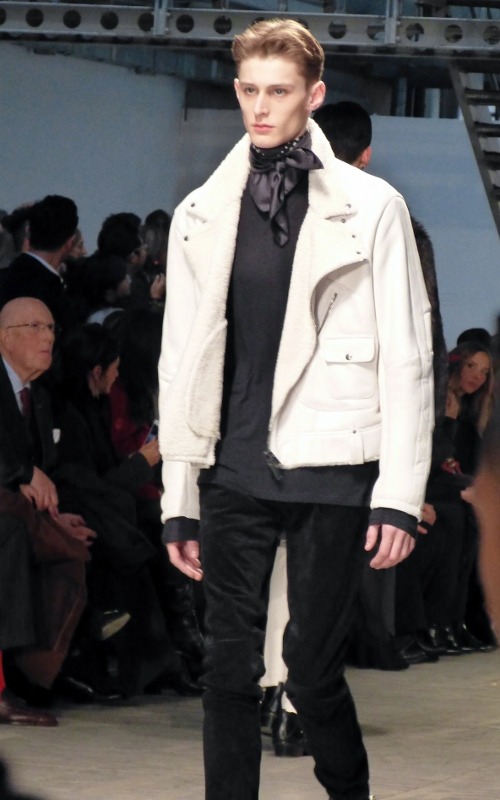 Designer Ennio Capasa lässt sich ja immer gern von Rock inspirieren, so auch diesmal, gleichzeitig ist die Kollektion aber auch wieder elegant, tragbar und zum Glück gibt es Farbe! Leder (sehr leicht und hochwertig), Rollkragen zum Anzug und Strick zeigten die Models auf dem Laufsteg. Besonders gefallen mir der blaue Rolli und auch der vorletzte Look. Tolle Show und tolle Mode!
English:
Currently I'm at the Mercedes-Benz Fashion Week in Berlin, but I still have to tell you more about the shows at the "Milano Moda Uomo". I think there is always too little time, but of course the blogposts will follow the next days. If you want to have a look in advance please take a look at my Youtube Channel, there you can find impressions of some shows already.
After the show of Ermenegildo Zegna Couture by Stefano Pilati I went to the show of CoSTUME NATIONAL Homme.  Designer Ennio Capasa was inspired by Rock music again, furthermore his collection is elegant and wearable. He showed us leather (very light and in high-quality), turtlenecks with suits and knitted pieces as well, love that he is using colours!
Especially I like the blue turtleneck and the look second to last. Great show and great fashion!