(For a short English version please scroll down)
Aber fangen wir doch einmal ganz von vorne an. Zur Schokolade kam ich (vermutlich) über die Muttermilch – das liegt einfach bei uns in den Genen. Naja, irgendwie kann ich es zumindest so erklären, denn wenn ich meine Oma (94) erlebe, kann es nur so gewesen sein. Ihr müsst wissen, dass meine Oma (eine recht zierliche Dame) noch recht fit auf den Beinen ist, aber was das Essen angeht, nur noch kleine Portionen verzehren mag. Sie beschwert sich auch (fast) immer, dass es zu viel auf ihrem Teller ist. ABER erwähnt man nur kurz das Wort "Nachtisch", "Eis" oder "Süßes", zaubert man ihr sofort ein Lächeln ins Gesicht. Da ist sie auf keinen Fall abgeneigt, egal wie satt sie ist! Süßes geht einfach immer! Es muss etwas dran sein, nicht umsonst ist meine Oma schließlich 94 Jahre jung!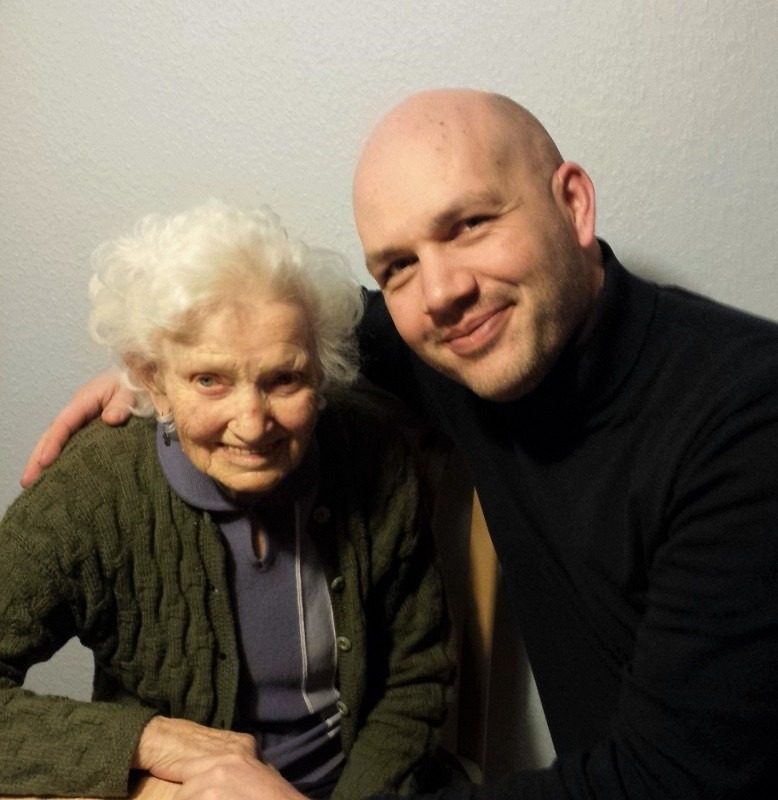 Lange Zeit hielt ich mich an mein einprogrammiertes Inneres, ohne mit der Wimper zu zucken. Früher wurde viel Sport getrieben, manchmal sogar 5x Handball-Training in der Woche, und Schokolade ging immer! Dann kam eine Phase mit weniger Sport, aber gleichbleibendem Schokoladenkonsum, dem Körper war es (noch) schnuppe – heißt, es hatte keine Auswirkungen auf diesen.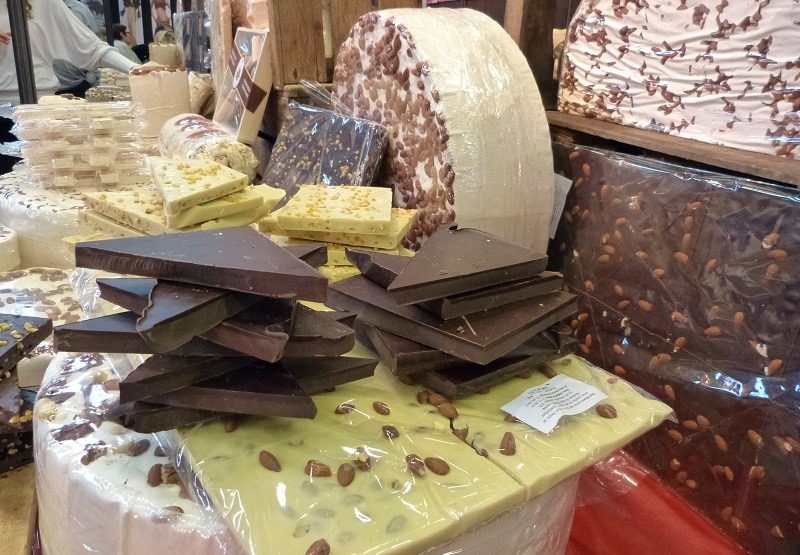 <Zeitprung> 2010 führte Ritter Sport seine Botschafter ein und da ich einer von ihnen war, kam die Schokoverkostung natürlich nicht zu kurz, versteht sich ja von selbst. Da es sich um ein zeitlich begrenztes Projekt handelte, wurden die Botschafter quasi in Rente geschickt, aber der Schokoladenkonsum blieb. Tja, unsereins wird auch nicht jünger und somit musste so langsam die Reißleine gezogen werden. Disziplin ist bekanntlich viel wert und somit verzichte ich nun seit Ende letzten Jahres auf Schokolade. Nein, das stimmt so natürlich nicht.
Denn ganz auf Schokolade zu verzichten geht einfach nicht… also vielleicht schon, macht aber natürlich gar keinen Sinn. Wie überall im Leben spielt das richtige Maß eine wichtige Rolle. Somit wurde erstens die tägliche Schokomenge auf ein Minimum reduziert und zweitens wird nur hochwertige, dunkle Schokolade gekauft (der Blutdruck wird es danken). Laut meiner eigenen persönlichen Studie ist es nun besser für mich, meinen Bauch, für den Platz im Schrank und die Umwelt. Ja, mittlerweile schmeckt mir die dunkle Schokolade auch viel besser, als zuvor gedacht. Es war also gar nicht so schwer!
Apropos Geschmack….darüber lässt sich bekanntlich immer streiten. Eines ist dennoch sicher: die Auswahl der Bohne spielt für den Geschmack der Schokolade eine wichtige Rolle. Eine Übersicht über die Kakaosorten bietet Kristian von chocojunky – Danke dafür! Des Weiteren nimmt uns Alyssa mit in die Welt des Kakaos – aber nicht irgendwelchen Kakaos, sondern in die Welt von Kakaoliebe und Nachhaltigkeit.
Die aktuelle Ernte wurde übrigens gerade getätigt und wird in ca. einem Monat erhältlich sein. Mit Sicherheit werden daraus wieder klasse Produkte, Traum eines jeden Schokoladenliebhabers und natürlich auch für die Geschmackszellen. Dafür mag ich Alyssa!
Apropos Alyssa, bzw. Blyss. Sie hat immer wieder super Ideen und deshalb muss ich auf ihr aktuelles Projekt, die "Kakao Akademy" aufmerksam machen. Alyssa schüttet ihr ganzes Wissen aus und vielleicht sogar noch etwas mehr. ;) Jep, die verschiedenen Module können natürlich einzeln gebucht werden, klickt Euch einfach mal durch.
Ihr seht, ganz ohne Schokolade geht einfach nicht (schon alleine wegen der Gene und meiner Oma), aber wenigstens auf die "gesündere" Variante umsteigen ist meine Alternative. Wer kann schließlich schon ohne Schoki leben?!
English:
Chocolate craving is all in the genes. That's what I can prove by looking at my grandma (94), who loves to eat chocolate. She is great, still quite fit and something sweet can always put a smile on her face. I am eating chocolate for a long time now, in my youth I played handball and had training five times a week. So my chocolate consumption didn't matter.
<leap in time> In 2010 my time as Ritter Sport ambassador started and with it a lot of chocolate tasting, of course. But as I´m getting older, I had to think about my high chocolate consumption and had to pull the plug. No chocolate anymore since the end last year. Ok, that is way too extreme, of course. I reduced the daily amount of chocolate and eat only dark chocolates of good quality. It`s better for my blood pressure, my figure, the space in the store and the environment. And I like dark chocolate much more than previously thought.
The choice of cocoa beans is very important for a good taste. You can find a good overview of the different varieties of cocoa by Kristian from chocojunky (German only). Thanks a lot!
Alyssa also takes us into the world of beans and chocolate. The current harvest is just in the making and will be available approximately in a month. Perfect products, I am sure! You can always feel the love to nature and good quality – that`s why I love Alyssa! In her new project 'Cacao Academy' you can participate in her experiences, just click through the site, you can find information about the different modules.
So living without chocolate isn`t possible for me, but at least I changed to a 'healthier' option. Who can finally live without chocolate?!
So schön kann ein Samstag beginnen. Der Schmitti (Postbote) klingelte an der Tür und der kleine olschi nahm etwas verwundert das kleine Päckchen entgegen.
Tür zu, Päckchen öffnen und ich musste breit grinsen. Mir fiel doch glatt wieder eine Nachricht über Twitter ein, welche ich erhalten hatte: "Little chocolate surprise is in the post" und ich musste noch mehr lächeln.
<bitte an dieser Stelle ein "Hach" vorstellen>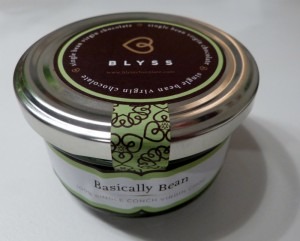 Holla die Waldfee liebe Leser. Das Päckchen enthielt ein Glas "single bean virgin chocolate" von Blyss. Ich öffnete den Deckel und ein Duft von reinster Schokolade durchströmte meine Nase. Sofort wurden Glückshormone im ganzen Körper freigesetzt. Wie muss diese Besonderheit erst schmecken, wenn sie mich als purer Geruch schon von den Socken haut?
Ein kleiner Löffel liegt bereit, dieser vereint sich langsam mit dieser dunklen Schönheit und dringt immer tiefer in das Glas ein. Ich bewegte ihn (den Löffel!) sanft und rührte langsam um, um anschließend eine Spitze dieser Köstlichkeit zu probieren.
<Stille>
Unglaublich, dieser leckere Geschmack. Mir fällt leider an dieser Stelle keine weitere Steigerung ein, um die Schokolade noch besser zu beschreiben. Man merkt einfach, dass Blyss unglaublich viel Wert auf hochwertige Ausgangsprodukte (die Arriba Bohne) und Verarbeitung legt.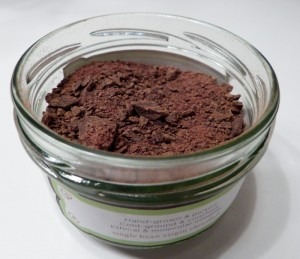 Eine Mischung mit Milch habe ich noch nicht ausprobieren können, da sich mein Körper erst wieder von den ganzen Glückshormonen befreien muss.
Fazit: Ich bin immer wieder begeistert, was die Natur Schönes entwickelt hat. Danke dafür und danke an Alyssa!
Business fashion is defined by conforming, but what role does expression play?
As our choice of dress defines us, I'm constantly astounded when I see stylish people dress down their character and persona for 'the office'. Understandably extreme punk isn't a banking outfit, however within reason, I question why we allow conforming of image to overshadow elements of our character in the office.
Olschi asked me to write a guest post for this fashion blog and I was a little stuck as I'm not a 'fashion girl'… I'm an expression-dresser. I have no idea about trends, but, probably just like you, I know what I like and what I 'feel like'.
When grooving around Frankfurt during the lunchtime feeding frenzy I'm overwhelmed by grey suits. I look into the eyes of these people and see weekend warriors, poets, garage musicians and hobby gardeners – none of which expression I see on their 'work suits'.
Why does 'the office' distill style? Is it a notion of conforming or being afraid to express?
During my 10 years working in corporate environments I understand what it's like to feel pressure to "Be your Best", a type of office poker face that hides our insecurities and fears so we look competent, reliable and efficient to our peers and leaders.
In 2007, while working at a major German corporation, I decided to stick it. This (very nice and excellent) company had a rule of No Jeans (even on casual Friday). I made a bet with my direct colleagues – I would wear jeans every day for a year AND get a promotion.They gladly reached out a grey-suited arm and handshook the deal, with a little under belly laugh.
The jeans program ran well, and I started to really push it -getting lazier and lazier with the look. As luck would have it, the day I wore doc martin boots, old jeans and a tee with "feed me chocolate" written on it – I was called to present at short notice in a board meeting. As I did the death-march up to the top floor, my colleagues laughed and yelled out Goodbye as they were certain that if I turned up at fuhrungskrafte meeting like that, I would surely be thrown out.
I wasn't fired, rather, I was praised for my work and encouraged to go further. The meeting secretary sent me an email after I left saying that the discussion among the members was "does she usually dress like that? why don't we have more expression in this company?". Indeed by the end of that year, I was promoted and an impressive jeans collection. Interestingly, I haven't worn jeans since. It was a phase that I had clearly used all my jeans days in my life during that year.
Expressive work-dressing is not necessarily about dressing down, but rather about being more in line with ourselves inside & out. For example, in my current work I find myself wearing cocktail dresses, lace gloves and feather hair fascinators on a daily basis. It's just how I feel now.
Even though I'm fronting a new business that operates within the luxury field, I'm still not bowing to pressure to dress "responsibly" or "branded" either. I'm surrounded by exclusive brands and images all day, and finding my outfits in poky stores with hand-written signs and passionate designers. I wear things my friends make, or designers from my home town; this way I feel wrapped in their love and creativity. This boosts my inspiration and I feel connected to them, and my humanity.
What we wear and how we express are signs of ourselves, and no fashion week, or office regulation is going to dictate my feelings to me.
So Olschi – this is my feeling about fashion. Love, lyss x
last 2 pictures are from kraM Photografie