(For a short English version please scroll down)
Auch wenn aktuell der Hochsommer noch in vollem Gange ist, lässt der Herbst nicht mehr lange auf sich warten. Und mit ihm natürlich die neue Mode. Einen sehr coolen Ausblick habe ich bei MISSONI entdeckt.
Wer kommt auf solche Ideen? Ja, das ist positiv gemeint! Ich kenne das ja von mir selbst, manchmal wundere ich mich über meine eigenen kreativen Ideen – die mir übrigens meistens unter der Dusche einfallen – aber was sich Angela Missoni ausgedacht hat, übertrifft so einiges! Sie hat zusammen mit der Fotografin und Künstlerin Viviane Sassen und dem Studio M/M (Paris) eine umwerfende Werbekampagne für die neue Winterkollektion entwickelt.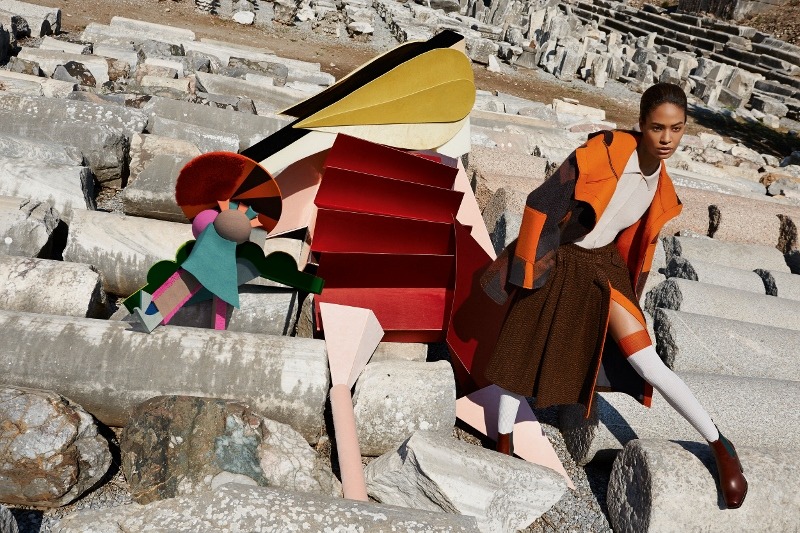 Wagen wir einen kleinen Ausblick in die Zukunft und stellen uns einfach einmal das Jahr 2970 vor. Was wird passieren? Wie wird die Welt aussehen? Welche neuen Technologien werden wir nutzen? Und was werden wir spüren und denken? Fragen über Fragen und genau diese Dynamik wurde versucht in der Kampagne darzustellen.
Als einzige Models standen Joan Smalls für die Damen und Justin Burnhill vor der Kamera. Kräftige Farben und Oberflächen stehen im Raum, dazu geometrische Formen, wie gewohnt ein perfektes Zusammenspiel. Ein weiteres Schmankerl für euch: Das Backstage – Video:
Und, den Mann mit Kaffee in der Box entdeckt? Eine klasse Inszenierung und wieder einmal perfekt von MISSONI! Mode war schon immer ihrer Zeit weit voraus!
English:
Autumn is around the corner and so is the new fashion. I've actually spotted MISSONI's cool new video and wonder, who has got such great ideas? Sometimes I wonder about my own ideas – I get the best ones while taking a shower – but the MISSONI campaign is just stunning! Angela Missoni has collaborated with photographer and artist Viviane Sassen and Studio M/M (Paris) to produce this advertising campaign for autumn/winter. It's like a daydream in the year 2970 that symobolises the aspirations, energy and highly imaginative vitality of the Missoni language. Model Joan Smalls for women and Justin Burnhill for the men's shots are the only protagonists of the campaign. Bold colors and surfaces clearly stand out in space and so it is a perfect combination together with the textures and geometric pattern. I also have the backstage video for you, have you seen the guy with the coffee in the box? ;) A perfect production of MISSONI; fashion is again ahead of the times!