Die Vespa ist back!
…aber war sie jemals weg? Natürlich nicht – versteht sich doch von selbst! Eine Kultmarke mit einer Tradition seit 1946 kann schließlich nicht einfach verschwinden. Allerdings wird eine neue Ära anbrechen und die Rollergeschichte neu sortieren.
Als Italienfan freut es mich immer besonders, wenn ich in Mailand bin und die kleinen Flitzer durch die Straßen fahren sehe. Schick, mobil und wendig. Apropos, in Mailand kommt man halt entweder mit der U-Bahn schnellstmöglich von A nach B oder eben mit der knatternden Vespa – wie in den meisten anderen Großstädten auch. Außerdem gehört der elegante Roller einfach zum italienischen Flair dazu. Ihr seht schon, ich bin ein kleiner Vespa-Fan!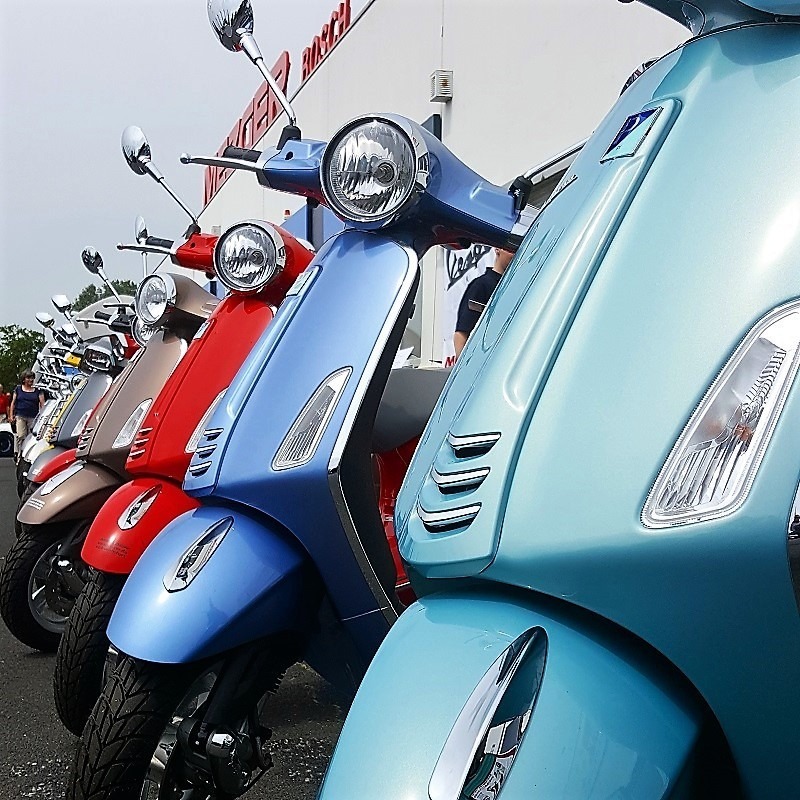 Auf der anderen Seite blutet aber in gewisser Weise auch mein Herz. Denn die klassischen Verbrennungsmotoren sind laut und verpesten die Luft. Was dazu führt, dass in Großstädten, und in Mailand auch schon des Öfteren, SMOG-Alarm ausgelöst werden musste. Ja, das ist keine großartige Neuigkeit, klar. In meinen Augen haben Politik und Automobilindustrie in der Vergangenheit versagt, aber das ist eine andere Geschichte. Nun, ganz langsam (also ganz, ganz langsam) ändert sich dies ja, ich sage nur ein Schlagwort: E-Mobility. Wobei, irgendwie kann ich es ja auch verstehen, denn das Konzept über Jahrzehnte war schließlich "Mobility".
Auch bei Vespa heißt es umdenken und den Fokus um den Punkt "Nachhaltigkeit" erweitern. Eigentlich hat die Piaggio Group in Sachen elektronische Motoren eine lange Tradition schon seit den 70er Jahren, aber eine rein elektrisch angetrieben Vespa ist schon nochmal eine andere Hausnummer. Auf der Mailänder Motorradmesse Eicma wurde sie (als Konzept) nun kürzlich vorgestellt, die "Vespa Elettrica", mit der die Piaggio Group die Mobilität der Zukunft im Sinne der Vespa voranbringen möchte.
Die Vespa Elettrica sieht der aktuellen Primavera sehr ähnlich, kommt aber natürlich ohne Auspuff (und auch ohne knattern) daher. Vermutlich wird es sie in vielen anderen Farben geben, schließlich hält Vespa am eleganten Stil fest, aber darüber ist noch genauso wenig bekannt, wie über die restlichen (technischen und kaufmännischen) Details. Was bekannt ist: Sie soll Mitte 2017 auf den Markt kommen. Ich freue mich! Punkt.
English:
Vespa is back! Of course Vespa was never gone, a cult brand with a tradition since 1946 won`t simply disappear. But a new era will start and re-sort the (scooter) history.
When I`m in Milan, I`m always happy to see all the Vespas around. It`s this Italian feeling and style I love. But according to environment, pollution and the quality of life changes have to be made in the mobility sector. In my opinion, politics and the automobile industry have failed in the past, but that is another story. The mobility sector is at any rate now facing a change of scenery that poses epoch-making challenges. And the Piaggio Group, whose tradition in electric motors dates back as far as the mid-seventies and who launched the first and best-sold hybrid scooter, is investing in the electric mobility of the future, presenting the Vespa Elettrica project at Eicma 2016.
Yes, it will be an electric version of the Vespa! With this Vespa will take a step into the future in complete consistency with the values that have accompanied its history.
The Vespa Elettrica is to be a true Vespa, bringing the very latest in electric technology to a vehicle that will retain all the features that have been vital to its success. The style, agility, ease of use and riding pleasure will be the same as the Vespa we have always known, with the addition of technological and innovative connectivity solutions. We don`t know much more about the technical details, but production and sales are planned for the second half of 2017. I`m looking forward to the new Vespa, a perfect mix of style, technology and environmental friendliness.