Mercedes Benz Fashion Week in New York City – Schedule SS14
(For a short English version please scroll down)
Es ist wieder soweit, die Mercedes Benz Fashion Week in New York City steht vor der Tür! Vom 05.-12 September präsentieren die Designer ihre neuen Kollektionen für Frühling/Sommer 2014 am Lincoln Center. Während der 8 Tage werden über 100.000 Gäste, Journalisten, Einkäufer und Angehörige der Modeindustrie erwartet. Wer mit einer Show dabei ist, könnt Ihr im offiziellen Schauenplan sehen.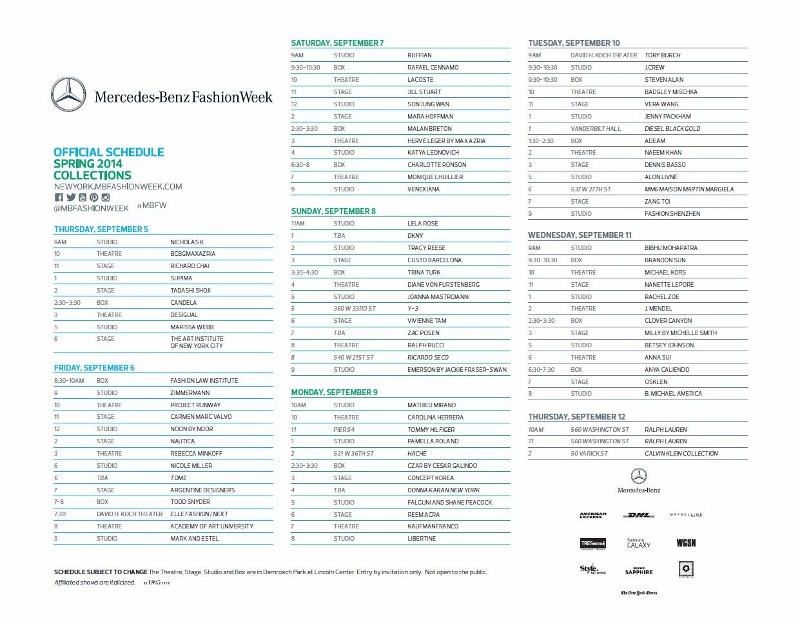 Link zum PDF (Zoom): New York Fashion Week Spring/Summer 2014 – Schedule
Welches Event darf zudem im September nicht fehlen? Richtig, die VOGUE Fashion's Night Out! Dieses mal ist das Motto "A Global Celebration of Fashion", zumindest in Deutschland und in 19 weiteren Ländern, denn in den USA und somit auch in NYC wird es diesmal keine FNO geben.
Ich erinnere mich gerne an 2009 zurück (damals gab es den Blog noch nicht), als die FNO in NYC noch recht klein und schnuckelig war – damals, als ich Tommy Hilfiger getroffen habe – die guten, alten Zeiten! ;) Mit Sicherheit wird es trotzdem auch dieses Jahr wieder ein tolles Event werden!
English:
Yeah, the Mercedes Benz Fashion Week in New York City is around the corner and the doors will open from September 5th to 12th to present the Spring/Sommer 2014 collections. Over 100,000 guests, journalists, buyers and members of the industry make Lincoln Center become the heartbeat of the city for the 8 days of shows and events.
Another event which is a must-visit for fashion victims in September is Fashion's night out, which takes place in over 19 countries, including Germany, but unfortunately not in the U.S. this time. I remember my visit in NYC in 2009 , when the FNO was still quite small and I met Tommy Hilfiger and had a great time there – good old days! I think it will be a great event again this year!