Antonio Marras Spring/Summer 2015 – Milan Fashion Week
(For a short English version please scroll down)
Fußball, Samba und dazu Bier und Chips – die Show von Antonio Marras versprach sehr gut zu werden! :) Auf dem Weg zum Circolo Marras sah man schon von weitem eine Menschenmenge rund um den benachbarten Park, auf dessen Basketballfeld das Event stattfand. Trommeln der Sambagruppe waren aufgebaut, per Bauchladen wurden Chips- und Bier verteilt ("Ichnusa" aus Sardinien, auch für deutsche Bierliebhaber ganz lecker) und mitten auf dem Platz eine Drohne, die das Ganze übertrug.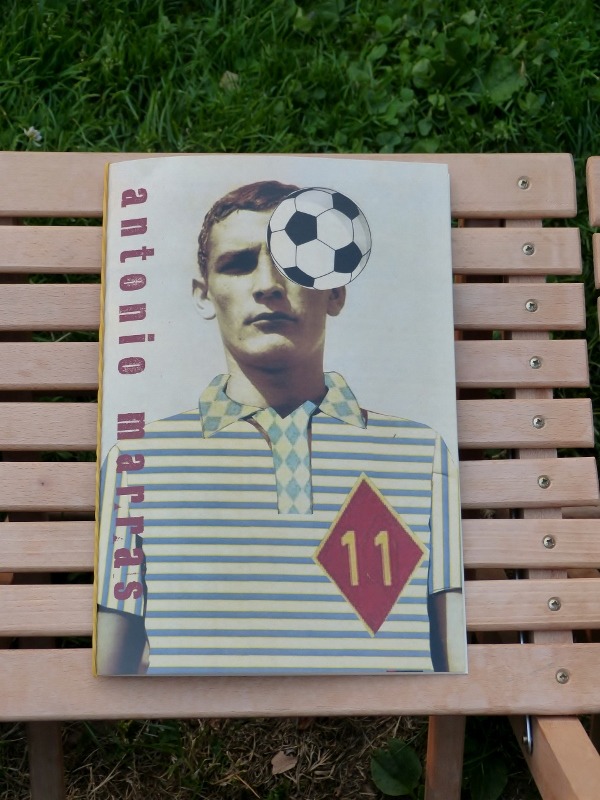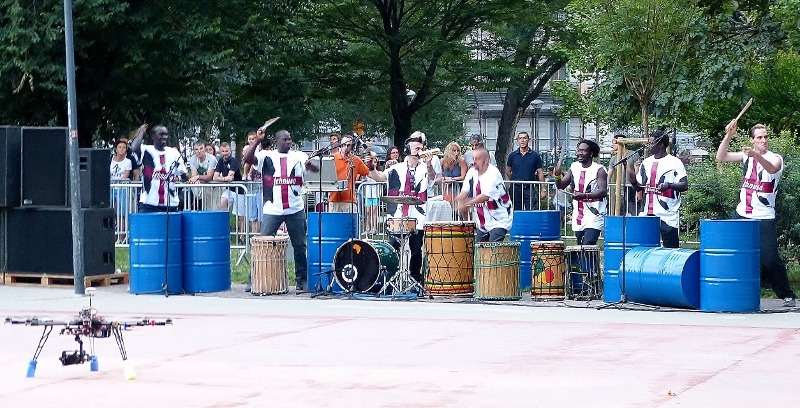 Dann ging es los. Antonio Marras widmete seine Frühjahr-/Sommerkollektion 2015 dem italienischen Fußballer Gigi Riva, der in den 60ern zu den besten Stürmern der Welt zählte, für die sardische Mannschaft "US Cagliari" spielte und noch immer Rekordschütze der italienischen Nationalmannschaft ist. In seinen Shows bezieht Marras sich immer wieder auf seine sardischen Wurzeln und veranstaltet dazu die besten Events der Milano Moda Uomo. Nicht nur die Show, auch die Mode war mal wieder sehenswert!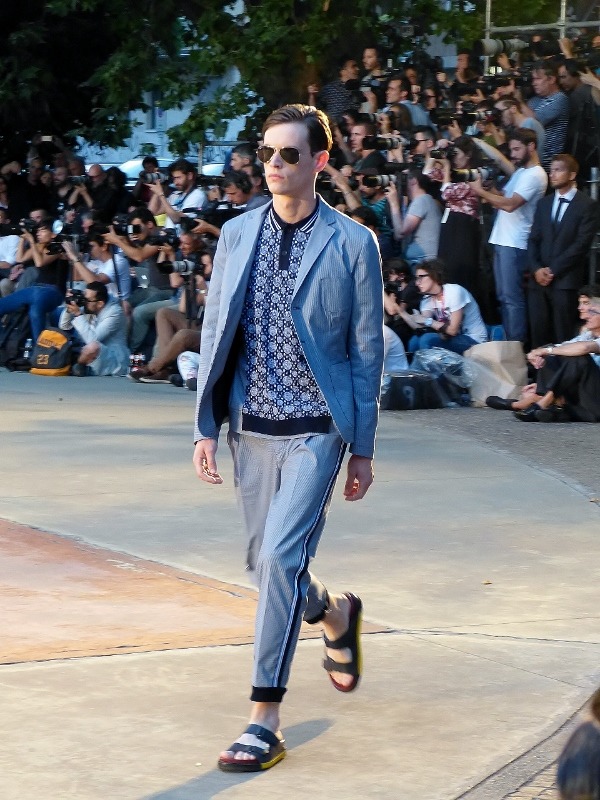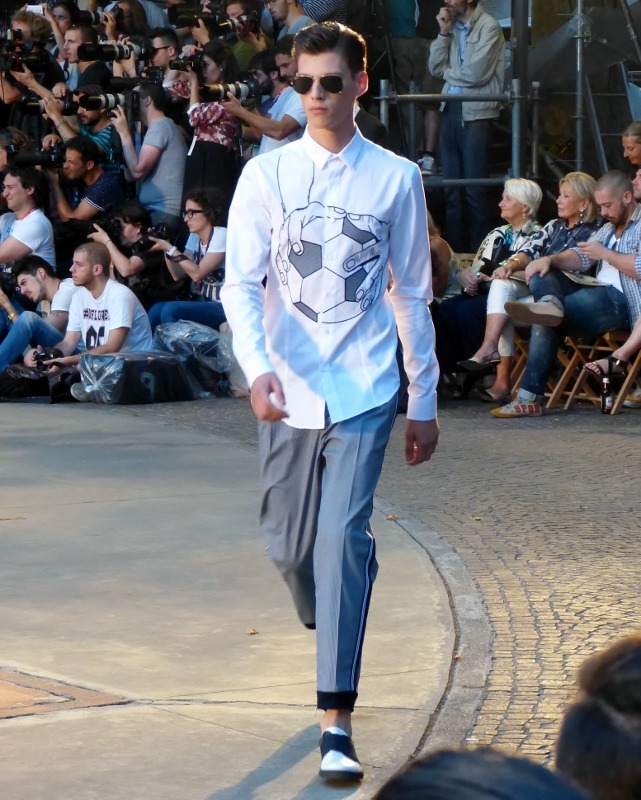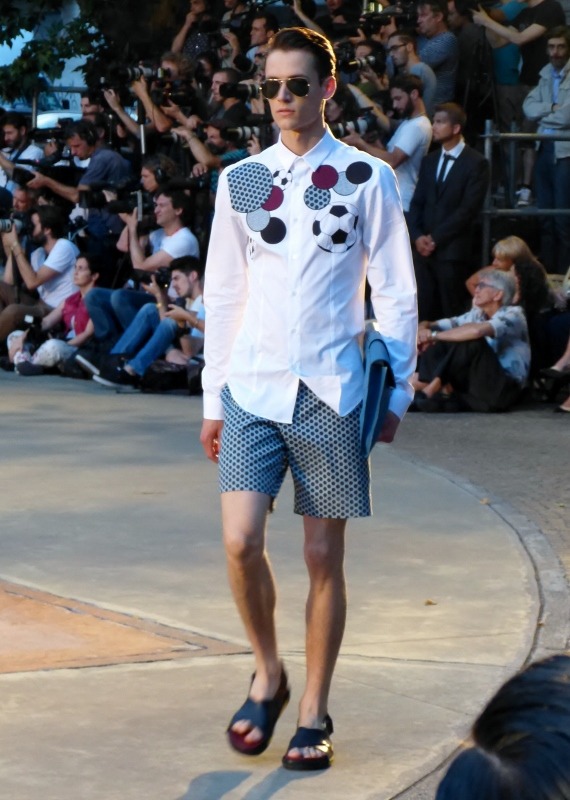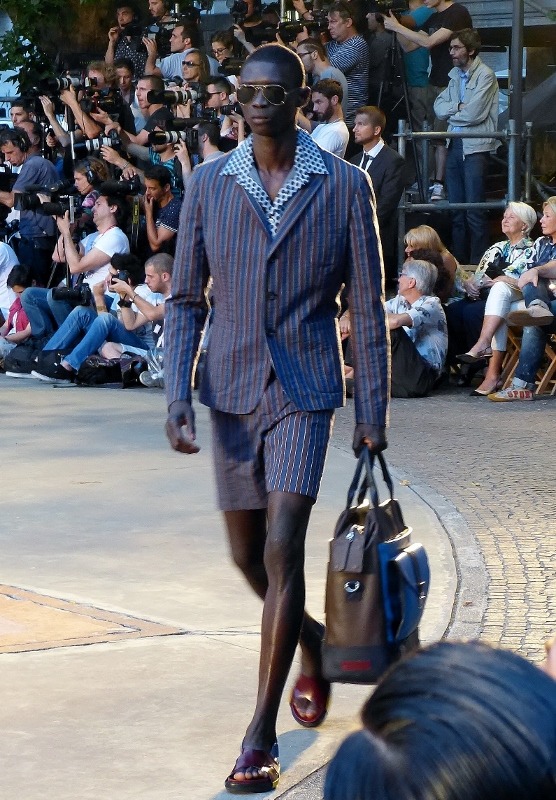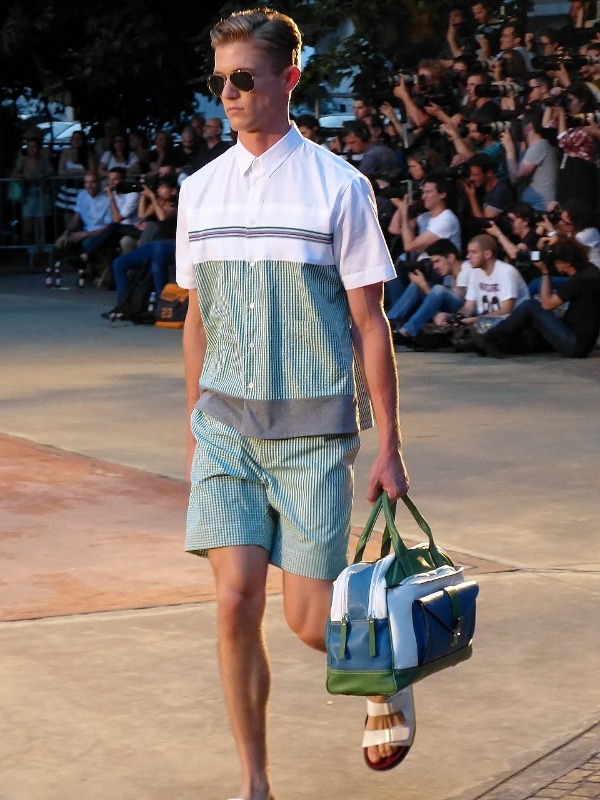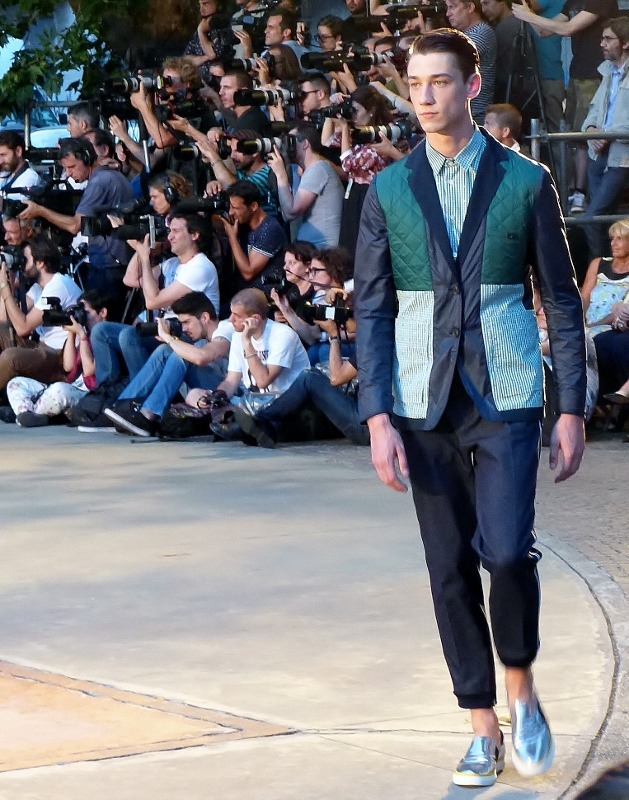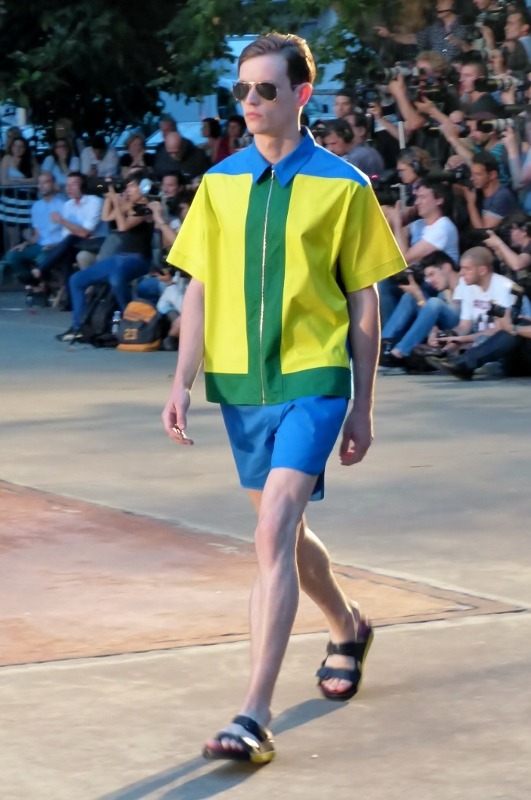 Marras Kollektion ist – wie viele bei dieser Milano Moda Uomo – sehr sportlich inspiriert. Ergonomische Schnitte, Jogginghosen im Smokingstil, Anzugsjacken mit dazu passenden Shorts, Sweatshirts, die wie Jacken aussehen und ein Mix aus Karo- und Blumenmustern, aber vor allem auch Punkte, Streifen und Fußballmotive gab es zu sehen. Dazu Denim, Jacquard, aber auch sportliches Nylon, alles schick kombiniert. Ich persönlich bin ja ein Fan der kurzen Anzughosen!
Zum Abschluss gab es dann noch ein weiteres Highlight, einige Fußballkünstler zeigten ihr Können und die Models drehten noch einmal in extra designten Fun-Trikots (inklusive Müllerrrr und Schweinsteigerrr ;)) ihre Runde.
Herrlicher Abend, tolle Mode – mille grazie Antonio!
English
Football, Samba, chips and beer ('Ichnusa' from Sardinia, which tastes quite good) – the show of Antonio Marras started promising! And it kept the promise. The Sardinian Designer dedicated his collection to Gigi Riva, one of the best Italian footballers in the 60ies and leading scorer for the Italian National team (and also playing for the Sardinian team "US Cagliari"). His collection is (as many during this Milano Moda Uomo) inspired by the universe of sport. Ergonomic cuts, elastic bands, hoods, jogging pants that look like tuxedo or suits with shorts – I am a fan especially of the latter combination. The pattern range from checks to micro flowers, polka dots and stripes and floral jacquard, denim or sporty nylon are amongst the used fabrics. Also filmed by a drone, which is quite popular since last season, it was one of the best shows of the Milano Moda Uomo and I like it, how Antonio Marras always refers to his Sardinian roots.
Wonderful evening, great fashion – mille grazie, Antonio!