Milan Fashion Week – Brioni und Santoni Fall/Winter 2014/15
(For a short English version please scroll down)
Zwei Labels, die ich in dieser Saison in Mailand zum ersten Mal besuchte, sind die italienischen Modeunternehmen Brioni und Santoni.
Die Präsentation der Schuhkollektion von Santoni für Herbst/Winter 2014/15 fand am terminlich ziemlich vollgepackten Sonntag statt. Kurz vor Ende der Zeit schaffte ich es, noch schnell im Showroom in der Via Montenapoleone vorbeizuschauen. Und was soll ich sagen? Es lohnte sich!
Italien und Schuhe passen einfach zusammen wie Kekse und Schokolade (Stichwort: Lambertz Monday Night morgen Abend in Köln), vor allem, wenn man elegante, hochwertige Exemplare mag mit perfekter handwerklicher Verarbeitung bis ins kleinste Detail. Einige Schuhmacher von Santoni sind schon seit Gründung des Unternehmens 1975 mit dabei, die Erfahrung zahlt sich natürlich aus. Alle Schuhe sind aus hochwertigem Material und z. T. handbemalt. In der aktuellen Kollektion findet man Monks, Oxfords und Ankleboots, aber auch Sneaker.
Quality made in Italy, beim nächsten Mal nehme ich mir definitiv mehr Zeit!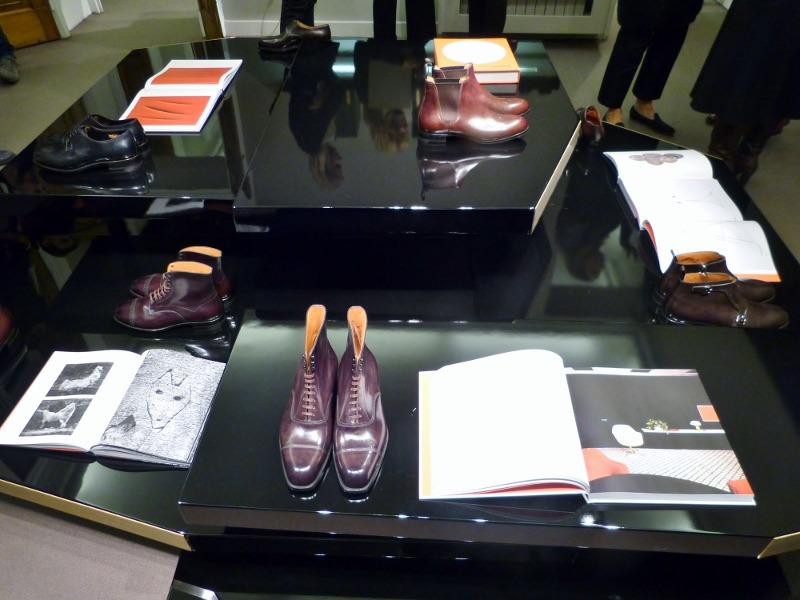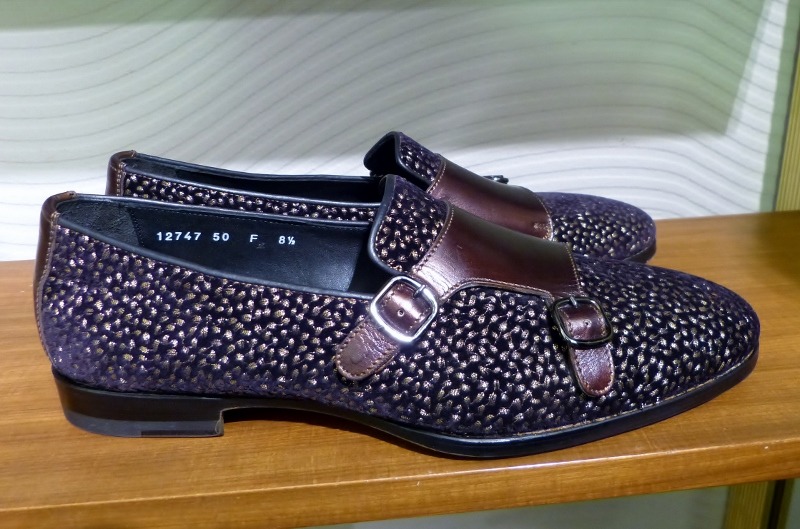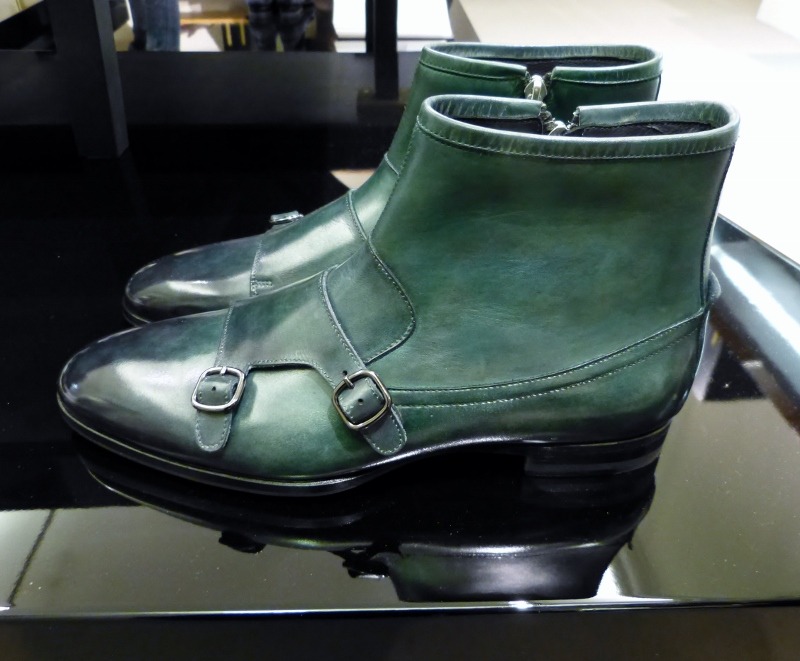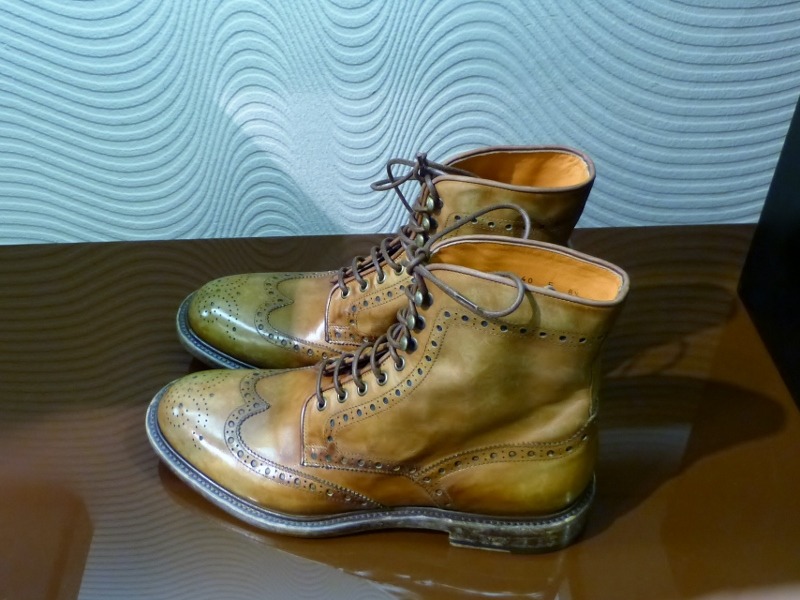 Brioni präsentierte seine Herbst/Winter Kollektion am Montagabend im Museo della Permanente. In verschiedenen Räumen zeigten die (standhaften) Modells schicke Anzüge, Mäntel, Hemden, Pullover und mehr rund um das Thema Japan, inspiriert von einem Reisetagebuch des Unternehmensgründers Gaetano Savini aus den 60ern. Also "East meets West", das Thema erkannte man auch gleich am schönen Kirschblütenhimmel, der über den Models angebracht war.
Neben Kirschblüten und japanischen Kranichmotiven , z. B. auf Seidenhemden, oder dem Revers im Kimonostyle, war eines der Highlights eine Bomberjacke mit handbemalten traditionellen japanischen Szenen. Hochwertige italienische Herrenmode, zum Teil handgefertigt , mit einem Touch Japan, sehr schick! Arigato und Grazie. :)
Übrigens stattet Brioni europäischen Adel und Hollywoodgrößen aus und war von Casino Royale an auch einige Jahre James Bond-Ausstatter.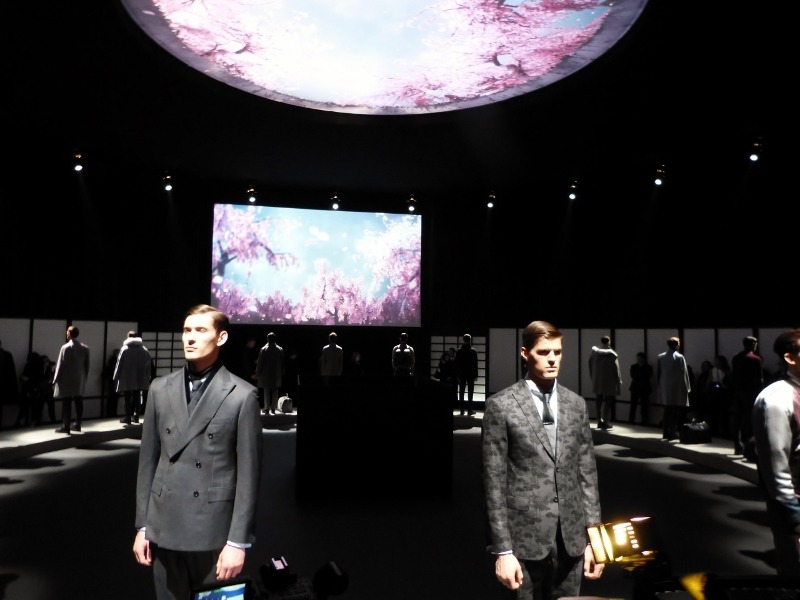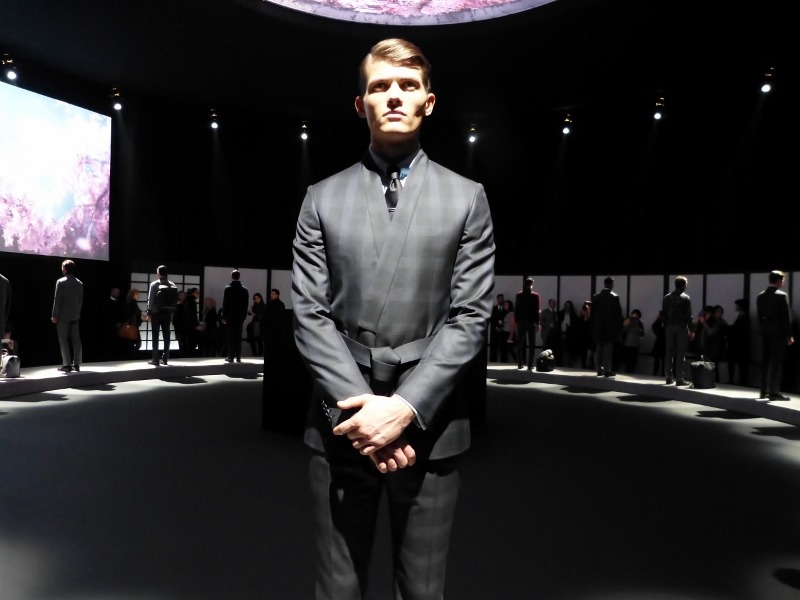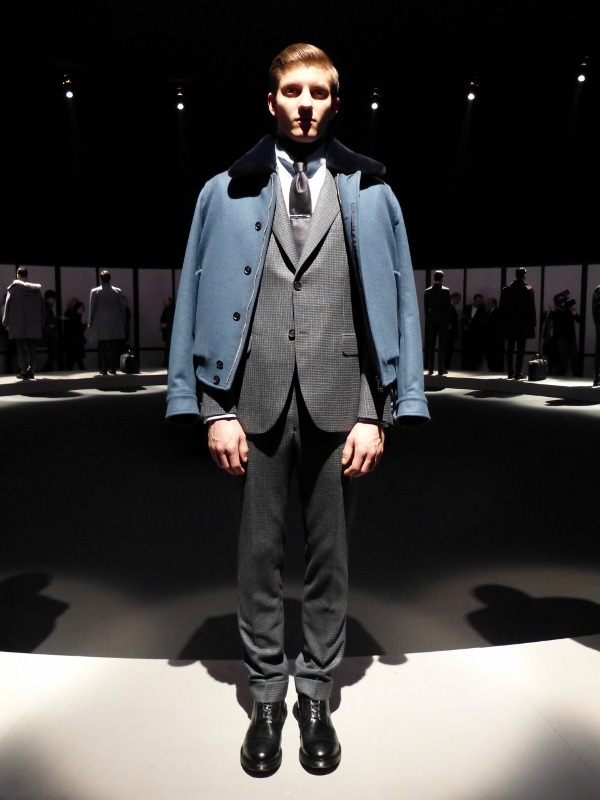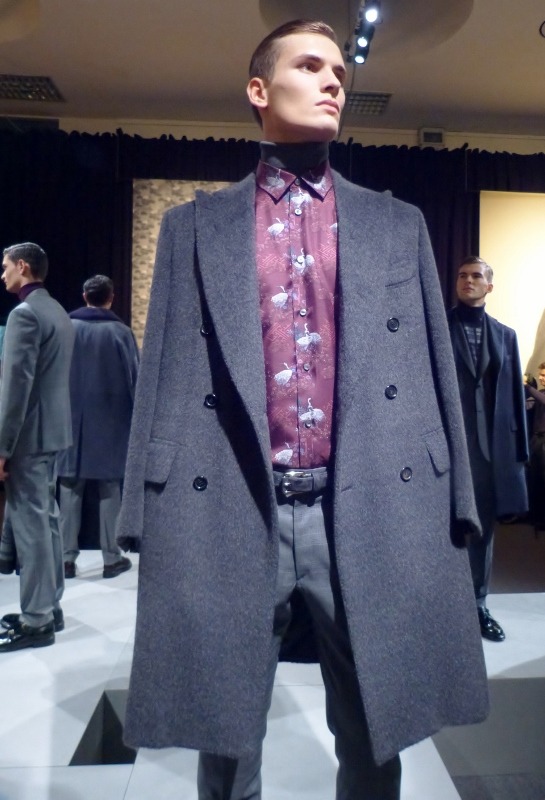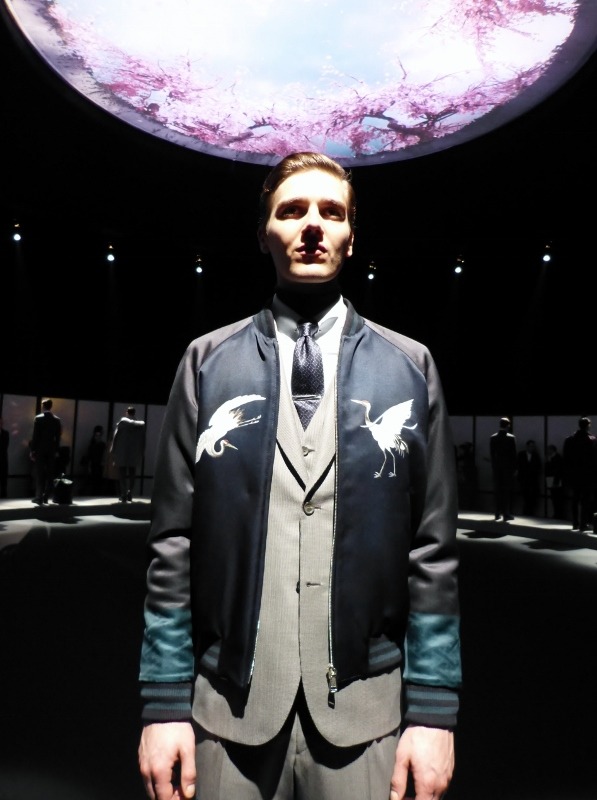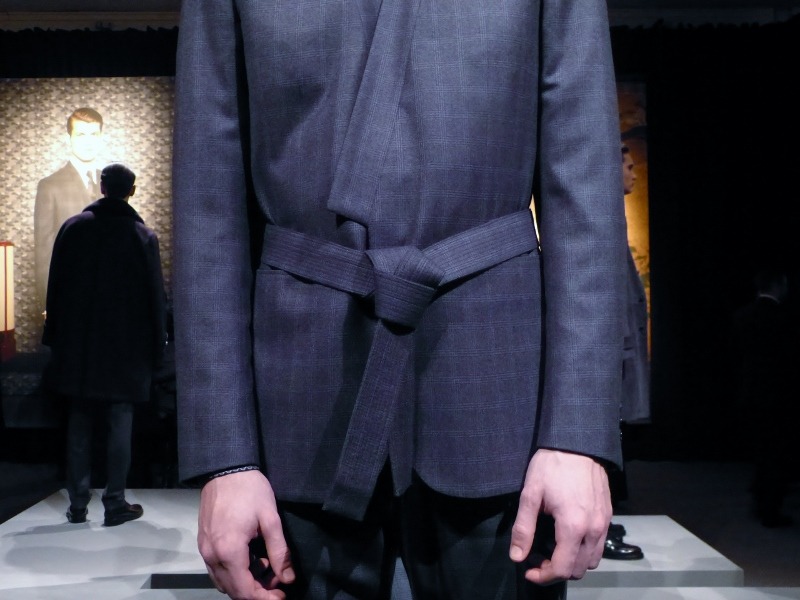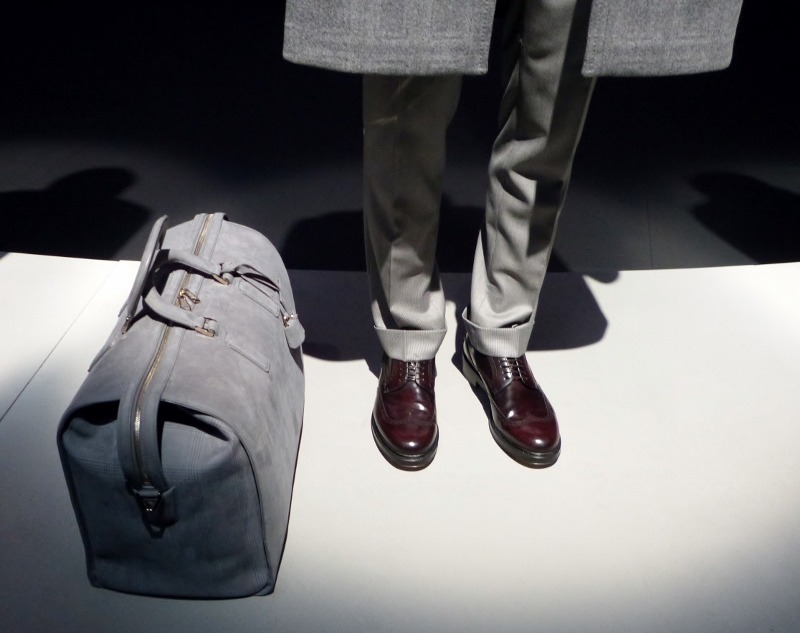 Fazit zu den beiden Präsentationen: ich brauche definitiv mehr Platz im (Schuh-) Schrank und ein gut gefülltes Konto! ;)
English:
Brioni and Santoni are two Italian labels, I have visited for the first time this season. The presentation of Santoni for Autumn / Winter 2014/15 took place on Sunday, which was pretty packed with dates. Shortly before closing I managed to stop by in the showroom in Via Monte Napoleone. And what can I say? It was worth it! Italy and shoes just fit together like biscuits and chocolate, especially if you like elegant, high-quality shoes with perfect craftsmanship to the last detail. All shoes are made of high quality materials and partly hand painted. In the current collection you can find classical Monks, Oxfords and boots, but also sneakers. Quality made ​​in Italy!
Brioni presented its Autumn / Winter collection on Monday evening at the Museo della Permanente. Subject of the collection is 'Japan', so cherry blossoms, crane motifs and Japanese scenes could be found on silk shirts, coats, suits and more. It is inspired by a travel diary from the 60s of company co-founder Gaetano Savini. "East meets West", presented under a beautiful cherry blossom sky. Elegant Italian Menswear, partly handmade, with a touch of Japan, very chic! Arigato and grazie. :)
I definitely need more space in my closet and a well-filled bank-account. ;)