Antonio Marras Fall/Winter 2016/17 – Milano Moda Uomo
Vor ca. 2,5 Jahren lernte ich Antonio Marras auf seinem Event in Mailand persönlich kennen. Wir haben uns auf Anhieb gut verstanden, er ist einfach ein sehr sympathischer Typ mit tollen Ideen. Diese setzt er jede Saison aufs Neue in seinen Schauen um, egal ob bei den Frauen oder den Männern, sie sind definitiv immer ein Highlight in Mailand!
Dieses Mal stand das Thema Cowboys und Wilder Westen im Mittelpunkt seiner Herrenkollektion. "Excuse me: where's the West? – In San Salvatore di Sinis in Sardinia!" Wieso Sardinien? Nun, wie ein roter Faden zieht sich bei Antonio der Bezug zu seiner Heimat durch die Kollektionen. Was hat der Wilde Westen damit zu tun? Die Stadt San Salvatore di Sinis diente in den 70er Jahren zahlreichen (Spaghetti-)Western als Filmkulisse, quasi der Wilde Westen auf Sardinien, eine Geisterstadt, die genauso in Arizona oder New Mexico liegen könnte.
Und diese Atmosphäre spiegelt sich in Marras Herbst/Winter-Kollektion wider. Große Schottenkaros, Patchwork mit Denim, die Rückkehr der Latzhose, Lagenlooks und robuste Arbeitermäntel sind typische Looks, passende Metallaccessoires genauso wie Cowboy-Hüte und geknotete Halstücher dürfen nicht fehlen. Blumenprints werden gemixt mit Erdfarben wie Moosgrün, Braun und Senf und dazu Kombinationen mit Nadelstreifen oder Prince of Wales Muster: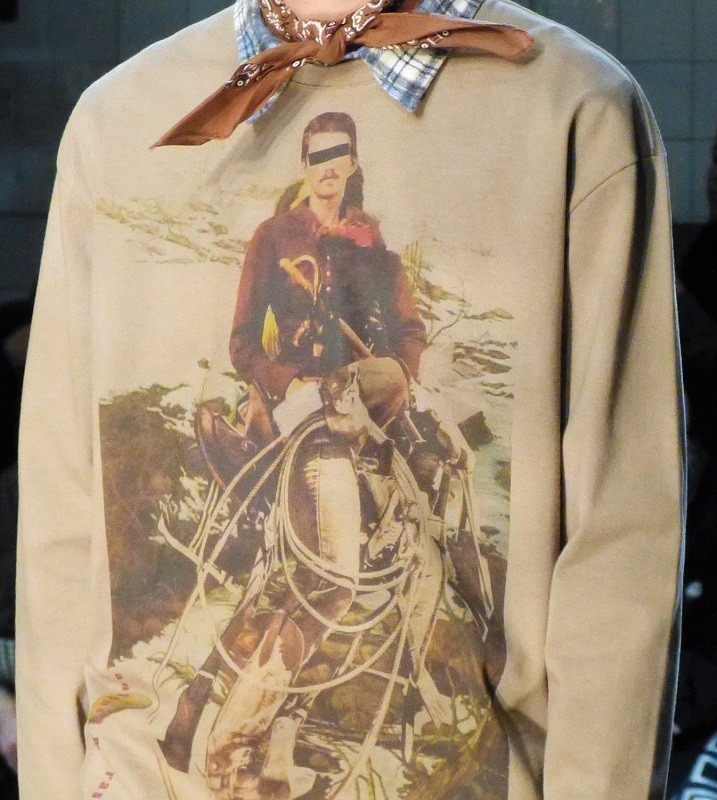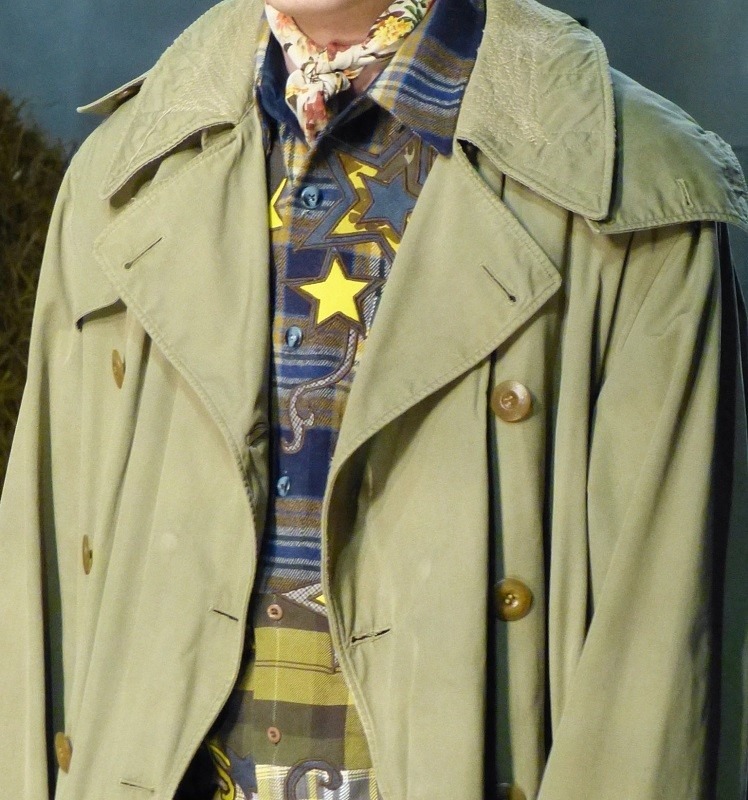 Antonio Marras wäre nicht Antonio Marras, wenn es nicht zudem eine besondere Show gegeben hätte. Diese würde ich Euch auch liebend gerne hier im Video zeigen, aber leider (!) hat die GEMA wieder einmal etwas dagegen. Ja, es ärgert mich ziemlich, denn die Tänzer in ihren Westernoutfits waren einfach nur großartig! Western Dance zu 'Personal Jesus' von Depeche Mode passte erstaunlich gut zusammen!
Wieder einmal eine grandiose Show, innovative Mode mit äußerster Liebe zum Detail. Danke, lieber Antonio!
English:
2,5 years ago I met Antonio Marras on his event in Milan. A very likable person with very creative ideas! These can be found in every single of his collections, which is presented in a great show every time. During this Milano Moda Uomo Antonio sent us to the Wild West. 'Excuse me: where's the West? – In San Salvatore di Sinis in Sardinia!' Pardon? Well, San Salvatore di Sinis is a place, where many western movies have been filmed in the 70ies, an old ghost town that looks like someplace in New Mexico or Arizona. His home Sardinia always runs like a red threat through Antonio's collections. A mix and match of patterns like tartan, stripes, flowers or Prince of Wales check, mixed fabrics, layering looks, earth hues like moss green, brown, mud or mustard, dungarees, intarsia shirts or heavy oiled cotton garments are part of the collection. And, of course, typical metal accessories as well as Cowboy hats and handkerchief scarfes should not be missed. At the end there was this great Western performance to the sound of 'Personal Jesus', a great show again with innovative fashion and a real love of detail. Thank you very much, Antonio!