Ritter Sport Edel-Bitter ist (wieder) da
(For a short English version please scroll down)
Auf dem Ritter-Sport Blog konnte man bereits lesen, dass die Sorte Edel-Bitter wieder zurück in die Läden kommt. Gestern konnte ich mich davon im Fabrikverkauf in Waldenbuch überzeugen – es stimmt also tatsächlich! ;)
Vor ein paar Tagen kam hier allerdings auch schon ein Paket mit 10 Testtafeln dieser Sorte an und selbstverständlich "musste" diese gleich probiert werden. Edel-Bitter ist halt Edel-Bitter. Wobei ich persönlich sie ja nicht "bitter" nennen würde, denn reine Schokolade schmeckt einfach so. Eine schöne dunkle Schokoladensorte! Übrigens wird die neue Ritter-Sport Edel-Bitter mit einem 73%igen Kakaoanteil geliefert, dies sind nochmals 2% mehr als in der Variante, die es schon einmal gab.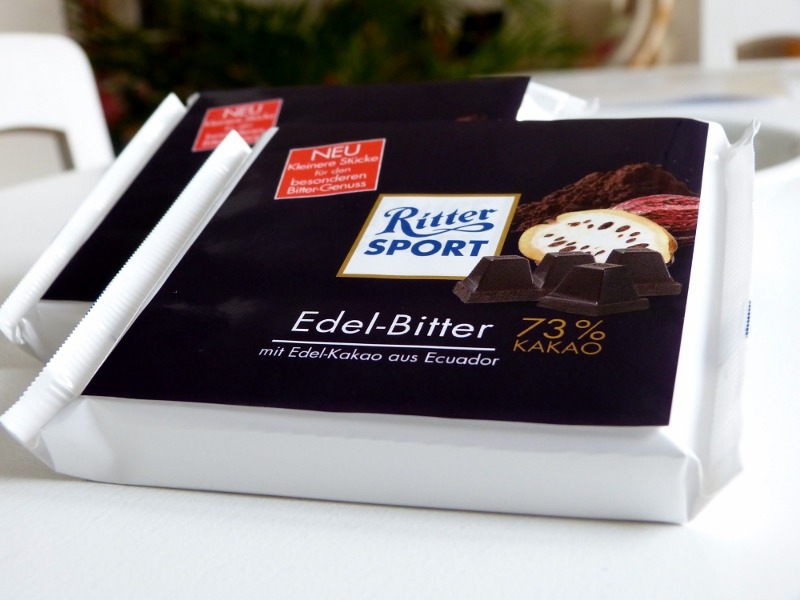 Etwas überrascht war ich allerdings von der Größe der einzelnen Stückchen. 100g sind 100g (und zwei Schwitz sind ein Schwimm – um einmal bei den Maßeinheiten zu bleiben), doch die Stückchen sind einfach viel kleiner, als die "normalen" Ritter-Sport-Stückchen. Statt den gewöhnlichen 1,8 cm (an der Oberfläche gemessen) haben diese Stückchen nur eine Breite von 1,0cm.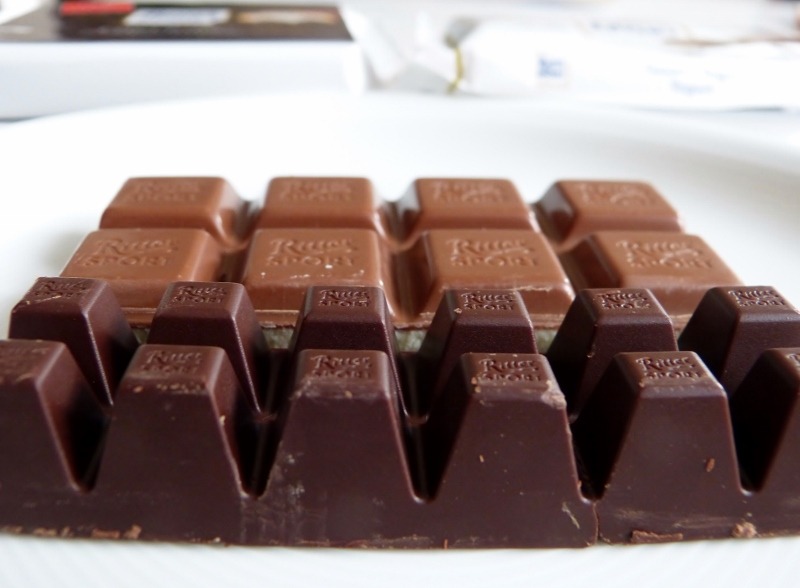 Insgesamt sind es somit 36 Stückchen statt der üblichen 16. Ich wurde bereits gefragt, wie ich diese Aufteilung finde und bin aktuell noch sehr unschlüssig. Angeblich eingeführt, um den Genuss noch zu verstärken, doch irgendwie überzeugt mich das nicht so ganz. Die "normalen" Stücke sind ja auch nicht so groß, also warum noch kleiner!? "Never change a running system" und da der kleine olschi ja auch nicht mehr der Jüngste ist, sind rapide Umstellungen nicht so sein Ding. ;)
Zurück zum Fabrikverkauf von Ritter Sport in Waldenbuch – warum gibt/gab es aktuell keine Nuss Nugat Creme im Topf? Da ist man einmal in der Nähe und dann sowas – Mensch, Mensch. ;) Nichtsdestotrotz fand die ein oder andere Sorte natürlich den Weg in meinen Einkaufskorb. Schokolade geht halt immer!
English:
A few days ago Ritter Sport announced the comeback of the 'fine extra dark chocolate' on their Blog.  As I have been to the factory outlet in Waldenbuch yesterday I could already see it in the shelves. And I have also got a test-parcel with ten pieces of this chocolate last week, which I had to try immediately.
Fine extra dark chocolate is fine extra dark chocolate. A really tasteful kind of dark bitter chocolate. The new version has 73% cocoa content – 2% more than the older version. I was a little surprised about the size of the pieces. The normal pieces are 1,8cm small and the size of the new squares is just 1,0cm, so you have 36 pieces (instead of 16). I don't think it is necessary to make them smaller than usual – never change a running sytem!