(For a short English version please scroll down)
Gegen Ende der Mercedes Benz Fashion Week kamen noch zwei weitere persönliche Highlights für mich, zum einen die Show von DIMITRI für Frühling/Sommer 2015 und die Show von Irene Luft (dazu mehr im nächsten Blogpost). Bei DIMITRI bin ich immer gespannt, was er zeigen wird, meiner Meinung nach würde er auch sehr gut in die Mailänder Modewelt passen. Sein roter Faden und auch die Liebe zum Detail kommen immer zum Vorschein und gefallen mir einfach. Wie es dieses Mal war, seht Ihr zuerst auf den Bildern:
(Bilder PR)
Dimitrios Panagiotopoulos arbeitete wie gewohnt mit hochwertigen Materialien wie Seide, Satin, oder Loch- und Guipure-Spitze. Diese wurden umgesetzt zu modernen Schnitten mit bunten graphischen Mustern oder Animalprints. Kleider, Tuniken oder auch Kimonos inspiriert von den 70ern waren ebenfalls Teil der Kollektion.
Seine Inspiration ist seine Vorliebe für exotische Orte, was sich in einem Hauch von Leichtigkeit, Sonne und Sommer zeigt. "Die DIMITRI Frau ist feminin und sexy, ein Freigeist mit einem entspannten Verhältnis zu Glamour", so der Designer. Dieses Mal mit einigen außergewöhnlichen Stücken, aber auf jeden Fall schick und mit der für ihn typischen Handschrift. Mediterranes Lebensgefühl pur!
English:
At the end of the Mercedes Benz Fashion Week in Berlin there were two more highlights on my timetable. The first one was the show of DIMITRI and his spring/summer 2015 collection; the other one was the show of Irene Luft, about which I will tell you more in my next blogpost – two of my favourite designers in Berlin! The designs of DIMITRI would also fit to Milan Fashion Week, I think. High quality materials like silk, satin or lace, modern cuts and lovely details are always core of his collection.
This time his inspiration came from his love of exotic places, so the designs emanate easiness, sun and summer. He showed bright colors, animal prints and 70ies inspired outfits like dresses, tunic shirts or caftans. Dimitrios Panagiotopoulos sees the 'DIMITRI woman' very feminine and sexy with a relaxed relationship to glamour. There were some extravagant pieces, but always chic. A Mediterranean attitude of life!
(For a short English version please scroll down)
Die jungen österreichischen Designer sind auf der Mercedes Benz Fashion Week in Berlin gut vertreten. Neben Rebekka Ruétz präsentierte diesmal auch die Newcomerin Roshi Porkar aus Wien ihre Kollektion für den Frühling/Sommer 2015. Möglich gemacht hatten dies Mercedes Benz und Elle, die sie im Rahmen der Förderung internationaler Nachwuchsdesigner als vielversprechendes Talent nach Berlin einluden. Ob zu Recht, könnt Ihr nach den Bildern entscheiden:
(Bilder PR)
Ich selbst habe es gerade so auf den letzten Drücker zur Show geschafft und bin gleichzeitig mit Tilda Swinton reingehuscht. Anyway, es gab auf jeden Fall außergewöhnliche Kreationen zu bestaunen! Die Inspiration für ihre Kollektion fand Roshi in über 4000 Jahre alten Steinstatuetten aus Mittelasien, den Baktrischen Prinzessinnen, die sie durch ihre Silhouetten, den Schnitt ihrer Kleidung und kunstvolle Frisuren faszinierten. Aber auch ohne die Prinzessinnen würde Roshi gute Mode machen, da bin ich mir sicher! ;) Dazu ein ungewöhnlicher Stoffmix und Kontraste auch im Schnitt – nicht umsonst hat Mercedes Benz und Elle Roshi Porkar ausgewählt, denn irgendwie hat die Kollektion etwas ganz Besonderes.
English:
You can find some Austrian designers at the Mercedes Benz Fashion Week in Berlin as well. Besides Rebekka Ruétz Roshi Porkar from Vienna presented her collection for Spring/Summer 2015 on the catwalk. Mercedes Benz and Elle invite up-coming talents every year and this time Roshi Porkar is the talent of the season.
Last-minute I hurried into the stadium together with Tilda Swinton. And we've got to see some exceptional creations. Roshi got her inspiration by over 4000 year old stone statuettes from Central Asia, Bactrian princesses, which fascinated by their silhouettes, the cut of their clothes and their elaborate hairstyles. A special mix of materials and contrasts in cuts make up an interesting collection – a very good choice of Mercedes Benz and Elle!
(For a short English version please scroll down)
Der sympathische Guido Maria Kretschmer, wahrscheinlich momentan der Lieblingsdesigner der Deutschen, durfte natürlich auch nicht fehlen auf der Mercedes Benz Fashion Week. Bereits am Vortag seiner Show fand der Produktlaunch der Designkooperation von Guido Maria Kretschmer und S.T.Dupont statt. Und Guido war natürlich selbst vor Ort. Ein Trubel, sage ich Euch, denn genau zu Beginn schüttete es, was es nur so konnte. Das tat der Präsentation aber keinen Abbruch. Der limitierte Stift "DÉFI SOLYSOMBRA", den Guido für das Traditionshaus designte, war übrigens an seine eigene Frühling/Sommer 2015 Kollektion "SOLYSOMBRA" angelehnt.
Diese wurde am darauffolgenden Mittwoch im Erika-Heß-Eisstadion vorgestellt. Wie immer, hier die Bilder zuerst: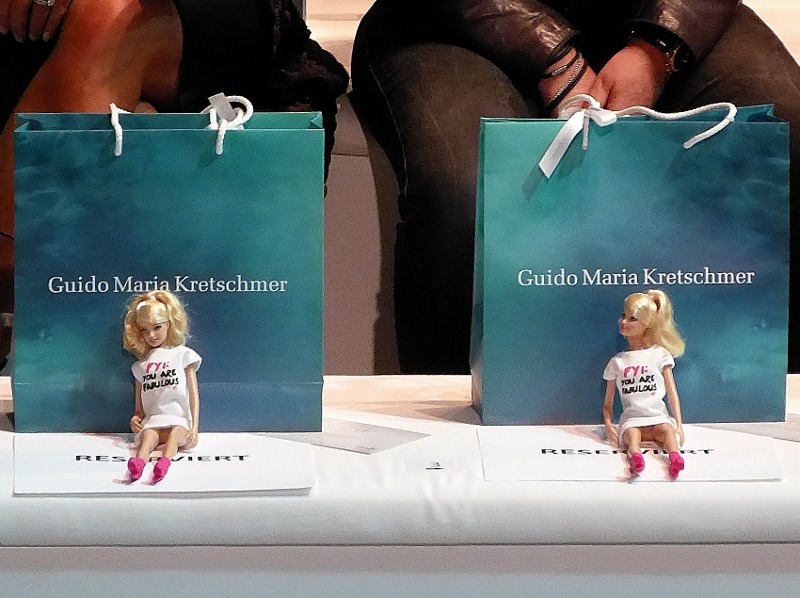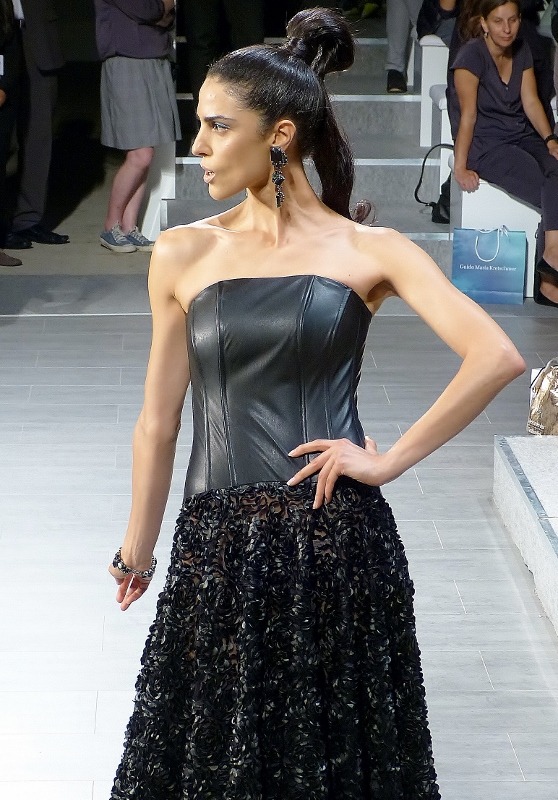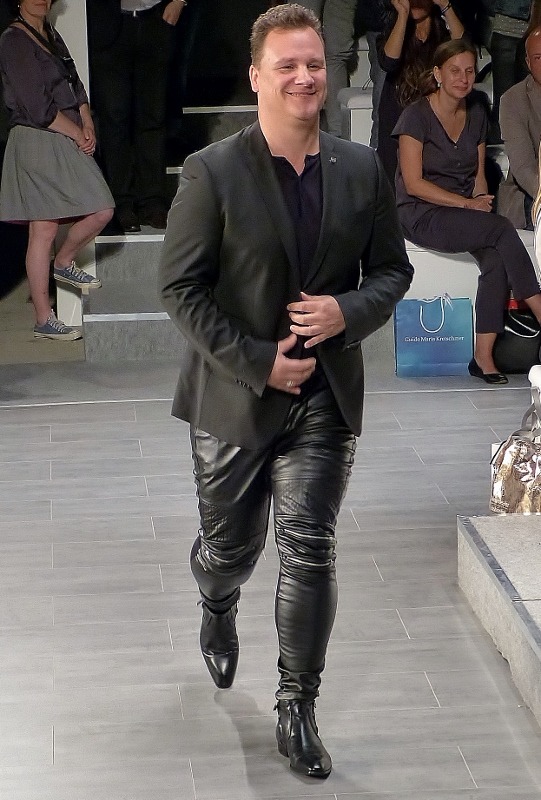 Die Frontrow glänzte, denn 410 winkende Barbies begrüßten die Gäste mit einer schönen Botschaft "FYI: You are fabulous" – für so was lieben wir Guido ja!
Das Motto der Kollektion ist "SOLYSOMBRA", Sonne und Schatten. Und diese Kontraste konnte man in den Designs gut erkennen. Schattenspiele zeigten sich durch unterschiedliche Materialien und Schnitte und tolle Layering Looks. Mit den typisch klaren Linien wirkte alles sehr lässig, aber auch modern und mondän. Der sprichwörtliche rote Faden war vorhanden, was ich persönlich immer sehr gerne mag. Es passt einfach zusammen und ist sehr typisch für Guido! Gefällt mir! :)
English:
Charming Guido Maria Kretschmer, one of Germany's most popular designers, has of course presented his new collection at the Mercedes Benz Fashion Week in Berlin as well. I have met him one day before his show, when he presented the new collaboration with S.T. Dupont, for whom he created a limited pen 'DÉFI SOLYSOMBRA'. The Spanish 'SOLYSOMBRA' is also the theme of his own Spring/Summer 2015 collection. At the beginning of the show you could find a glamorous front row, because 410 Barbie dolls with the message: "FYI: You are fabulous", waved to the guests. Details we love! The play between light and shadow – SOLYSOMBRA – could be recognized in his designs with layering looks, different materials and straight cuts. Very modern and sophisticated, but easy-going as well!
I always love to see a central thread running through a collection – it matches together and is typical for Guido – I like!