Milan Fashion Week – DAKS Fall/Winter 2014/15
(For a short English version please scroll down)
Der nächste Schauenbericht aus dem wunderschönen Milano kommt genau jetzt und handelt von DAKS, welche – direkt nach der Show von MISSONI – ihre neue Herbst/Winter 2014/15 Kollektion im wunderschönen Palazzo Clerici präsentierten. Kleine Anekdote zur Kunstgeschichte am Rande: Der Maler Giovanni Battista Tiepolo, der dort im Palazzo 1741 die Deckengemälde malte, malte später auch das größte zusammenhängende Deckenfresko in der Residenz in Würzburg.
Anyway, zurück zu DAKS und der neuen Kollektion. Allerdings war es nicht irgendeine Kollektion, sondern DAKS feierte diesmal sein 120jähriges Bestehen. Seit 1894 steht die Marke für typisch britisches Design mit immer wieder neuen Stileinflüssen und so kreierte Filippo Scuffi auch dieses Mal eine gelungene Kollektion. Aufgrund netter Gespräche nach der Missoni Show war ich ziemlich knapp dran und konnte meinen Platz in der ersten Reihe leider nicht mehr einnehmen, aber egal, die Show war trotzdem toll und hier kommen einige Bilder: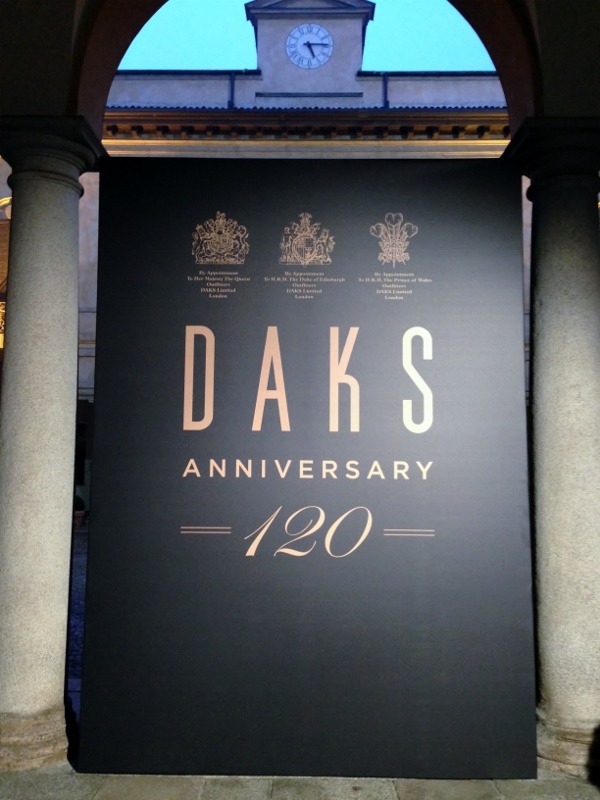 Man sieht sofort, dass es ein Mix aus Traditionellem – wie z. B. die zweireihigen Sakkos oder Mäntel – und modernen Einflüssen, wie schmal geschnittenen Hosen und grober Strick, ist – dennoch passt es sehr gut zusammen. Das typische Glencheck- bzw. House Check Muster darf natürlich auch nicht fehlen und wurde zudem mit schicken, klassischen Farbtönen (Camel, Bordeaux, Grün … ) kombiniert. Perfekt für den modernen englischen Gentlemen-Look!
Herzlichen Glückwunsch zu 120 Jahren und bitte weiter so!
English:
The next fashion show report from Milano is about DAKS and the presentation of their fall/winter 2014/15 collection in the beautiful Palazzo Clerici (just after the show of MISSONI). Did you know that the painter Giovanni Battista Tiepolo, who painted the ceiling fresco in Palazzo Clerici 1741, painted a famous fresco in the Residence in Wuerzburg as well?!
Anyway, back to DAKS and their new collection, which was a quite special one, as DAKS celebrates its 120th birthday this year. Since 1894 the brand stands for typical British design with varying style influences and so Filippo Scuffi again created a beautiful collection this time. Because I had some nice talks right after the Missoni show, I was a little late and unfortunately couldn`t take my seat in the front row. But no matter, the show was great; you can find some pictures above.
It's a mix of traditional pieces, like the double-breasted jackets or coats, and modern influences, such as slim-fitting trousers – both fit perfectly together. The typical House Check pattern of Daks was combined with elegant and classic colors (camel, Bordeux, green …). Perfect look for modern English Gentlemen!
Congratulations to the 120 years and please keep it up!